Galápagos - Voted 'Best Islands in the World'
Our Ships in Galápagos
Two ships offering weekly Friday and Saturday departures year-round
Our expedition ships in Galápagos offer two different, but equally appealing experiences of the islands. Which to choose depends on your travel schedule and whether you're traveling on your own, as a couple, with family or with a group. Our expedition specialists will help you determine which departure and ship is right for you.
National Geographic Endeavour
A classic expedition ship, this 96-guest vessel offers the benefit of more naturalists and a glass-bottom boat. Gracious, world-traveled, and much-loved by past guests, Endeavour has a stately air and a casual, contemporary spirit. Kids delight in her expansiveness and sheer number of places to explore.
National Geographic Endeavour II
National Geographic Endeavour II is a purpose-built expedition ship that first sailed in 2005. After undergoing extensive renovation this year, she will redeploy to Galápagos. She is exceptionally nimble and maneuverable, with great viewing from all public spaces, large windows in cabins and suites, state-of-the-art tools for exploration, and a fast, seamless twin Zodiac loading platform.
National Geographic Islander
Yacht-scaled and trim, her mahogany and gleaming brass fittings create a gracious and welcoming environment. Guests of this 48-guest twin-hulled expedition ship often compare Islander to being aboard a private yacht—one that's as smart as she is lovely and dedicatedto discovery.
Galápagos Itineraries
Galapagos 2016-17 Brochure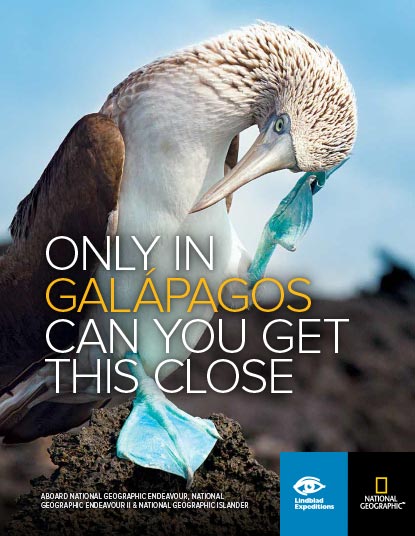 View online or have one mailed to you. It's free!
Brochures & DVDs