Exploring the British and Irish Isles
England, Ireland, Scotland & Wales: A Circumnavigation
19 Days
NG Explorer
148 Guests
Expeditions in: Apr
From $18,380 to $33,530
Itinerary Overview
Discover wildness & deep history in a land continuously occupied for over 6,000 years
Exclusive opportunity: Former United Kingdom Prime Minister Gordon Brown joins us aboard NG Explorer for a special event where he will discuss Britain's role in the world. Learn more, and reserve your space on this special April 2017 departure.
Embark on a holistic circumnavigation that encompasses Britain, Ireland, Scotland, and Wales. Discover the wild, rugged, seldom-seen islands of the west, as well as refined Edinburgh, historic Portsmouth and Lindisfarne, and dramatic Iona and Skellig Michael. Walk through Stone Age village ruins 5,000-years-old, examine the history of WWII up close, Zodiac cruise beneath the towering Cliffs of Moher, and hoist a pint or two with spirited natives in cozy pubs throughout the land. You'll explore ancient sites in moody landscapes to learn about culture and history in lands that have been continuously inhabited since Stone Age times. This voyage will enable you to:
Trace a maritime thread around the isles, exploring the wild and beautiful places where Celtic and Viking influences still thrive in local languages and customs
Sail around magical Skellig Michael, which is crowned with a seventh-century beehive monastery
See the stunning 12th century Iona abbey, and Zodiac into Fingal's Cave in Scotland
Explore wild, windswept outer isles; search for whales, dolphins, and seals; and see vast, important seabird nesting sites
Indulge your personal interests
How you spend your expedition time is vital to us. We want to bring you to and through the British & Irish Isles in the most engaging ways possible. Every day you can join naturalist or historian-guided hikes—choosing the individual whose interest and personality matches yours. Meet the lively characters who make up the contemporary scene in towns along the way. Or simply enjoy the open decks and glorious views from National Geographic Explorer.
Travel with some of the best and brightest
The encyclopedic knowledge of our historians adds insight, depth, and clarity to each geography. Our naturalists will describe the geology of these rich coastlines, sharing their knowledge daily. If improving your travel photos is a passion, than we recommend you spend time with the National Geographic photographer and the Lindblad Expeditions-National Geographic certified photo instructor aboard ship and on walks ashore. Meet the team.
| | |
| --- | --- |
| Day 1-2 | U.S./Edinburgh, Scotland/ Embark |
| Day 3 | Lindisfarne, Holy Island, England |
| Day 4 | Ipswich |
| Day 5 | Portsmouth |
| Day 6 | Fowey/Eden Project |
| Day 7 | Isles of Scilly |
| Day 8 | Skomer Island, Wales/Fishguard |
| Day 9 | Cobh, Ireland |
| Day 10 | The Skelligs and Dingle Peninsula |
| Day 11 | Cliffs Of Moher & Aran Islands/Connemara |
| Day 12 | Connemara, County Galway |
| Day 13 | County Donegal |
| Day 14 | Iona and Staffa, Inner Hebrides, Scotland |
| Day 15 | Stornoway, The Isle Of Lewis, Outer Hebrides |
| Day 16 | Orkney Islands |
| Day 17 | Fair Isle and Mousa |
| Day 18 | Shetland Islands |
| Day 19 | Bergen, Norway/ Disembark/ U.S. (B) |
British & Irish Isles Brochure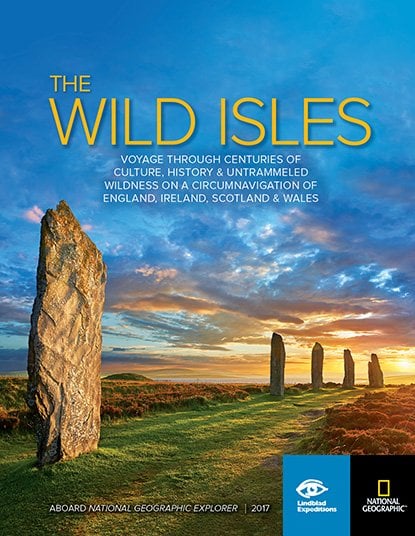 View online or have one mailed to you. It's free!
Brochures & DVDs
Join
Former
Prime
Minister
Gordon
Brown
Read Bio