Exploring the British and Irish Isles
Cultural Experiences
Experience the present, the past, and prehistory coexisting in time
Discover the British and Irish Isles as they were meant to be experienced—via the sea. Explore the fascinating layers of history present in these lands, continuously inhabited for more than 5,000 years, where ancient Celtic, Viking, and even prehistoric influences are visible. Visit quaint, age-old villages. And have the rare opportunity to visit St Kilda, a UNESCO World Heritage site, with its ghostly record of a vanished community. And the privilege of exploring distant Orkney where elaborate standing stones and structures, even a village fragment, testify to the sophistication of primitive man. You'll have the advantage of traveling with a historian deeply versed in the Isles to establish themes for the voyage, and weave the strands of disparate narratives together for you.
Experience the naval glories of Portsmouth, the charms of Dartmouth in Devon and the contrasts in the Isles of Scilly in England. Trace the ascetic expeditions of the Celtic monks to marvelous Skellig Michael. Sail under the stern Cliffs of Moher to discover the Aran Islands in Ireland. See the grave of Macbeth in the radiantly clear light of Scotland's cloistered Iona. And revel in the sight of shaggy Shetland ponies grazing the rolling landscapes of the rugged Shetland isles. A voyage with, literally, never a dull moment.
British & Irish Isles Itineraries
British & Irish Isles Brochure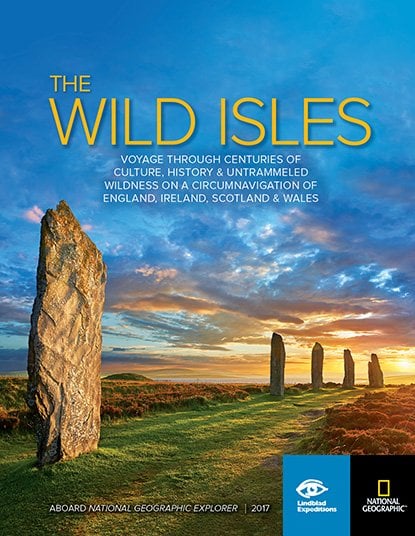 View online or have one mailed to you. It's free!
Brochures & DVDs