Exploring the British and Irish Isles
British & Irish Isles Expedition Team
Travel with knowledgeable, engaging companions
The quality of our veteran staff, and their companionship is the reason the Lindblad name is known and respected for top-quality expeditions. And now that we are aligned with National Geographic, there is no better team anywhere.
The team composition
Every expedition sails with a veteran expedition leader, an assistant expedition leader, and a team of eight naturalists with a variety of specialties: zoology, biology, ornithology, geology, history, and more. Other members of the 15-person team include a National Geographic photographer plus a Lindblad Expeditions-National Geographic certified photo instructor, an undersea specialist, a Global Perspectives guest speaker, a wellness specialist, and a video chronicler. Together they provide you with a greater understanding and appreciation for this exceptional region.
More specialties and personalities
our excellent 1-to-10 staff-to-guest ratios ensures you the benefits of diverse personalities and backgrounds, and the freedom to head out on activities with the naturalist whose interests mirror your own. You are never assigned to a specific group, and our team can custom-tailor activities to match your activity level—to make each day of your expedition uniquely yours, and deeply rewarding.
Featured British & Irish Isles Team Members
British & Irish Isles Itineraries
British & Irish Isles Brochure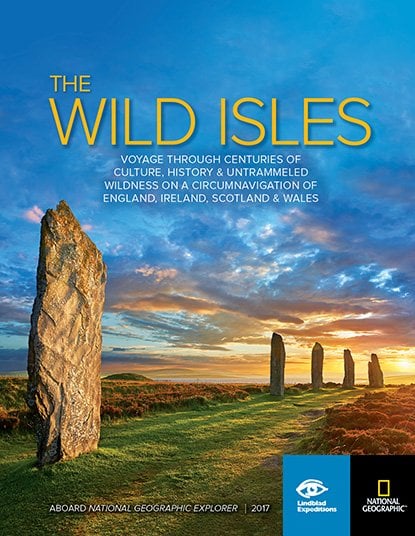 View online or have one mailed to you. It's free!
Brochures & DVDs