Exploring the British and Irish Isles
Pack Your Camera
Capture the many facets in photos you'll proudly share
Thanks to the alliance between National Geographic and Lindblad Expeditions, you can travel to world-class geographies, discover peerless photo ops, and have a National Geographic photographer plus a Lindblad-National Geographic certified photo instructor at your service.
With architecture, pre-historic sites of surpassing beauty, pastoral landscapes and street scenes of endless charm, the British and Irish Isles speak to the artist in everyone. Capture the moments at the heart of your expedition with your camera. And count on our onboard professional photographers to ensure that you're able to express what you see and fell.
Thanks to our Expedition Photography program you'll have the assistance you need to take the best shots of your life. A National Geographic photographer is on every departure of National Geographic Explorer. These are the top professionals whose images have animated the pages of National Geographic. They'll inspire you, and help with tips, advice and illuminating talks and slideshows. Your certified photo instructor, a veteran naturalist, is trained to assist you with your camera model, the basics of composition and more. He or she will provide instruction, on-the spot-assistance and shooting tips. You'll get to participate in unique share and learn opportunities too, including one-to-one critiques, onboard presentations and slideshows, plus laptop gallery events. Whether you think of yourself as a photographer, or just someone with a point-and-shoot camera, you'll go home a better, more confident image-maker—with a marvelous British & Irish Isles photo album.
British & Irish Isles Itineraries
British & Irish Isles Brochure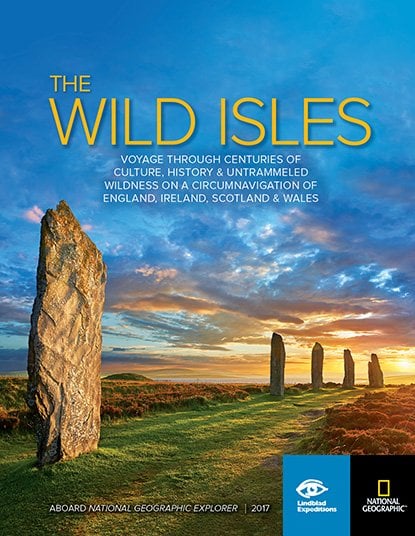 View online or have one mailed to you. It's free!
Brochures & DVDs