Exploring the British and Irish Isles
What It's Like/What You'll Do
How you'll spend your time and reward your curiosity
National Geographic Explorer is the world's ultimate expedition ship. Launched in 2008, Explorer was designed to embody the Lindblad Expeditions-National Geographic Alliance and its mission to inspire people to travel and care about the planet. Representing 175 years of collective expedition experience, Explorer is your home for the duration of your expedition. Her polar pedigree makes her adept at the distances between islands and the cold northern waters of this expedition. And her just-right size and nimble maneuverability allows you and fellow guests to get close, and enter, places of highly local interest—many otherwise inaccessible, or accessible only through complex arrangements.
Actively explore every day
Zodiac cruise, kayak, hike, and walk daily: there's nothing passive about our expedition style. Our captains' dexterity and the logistical savvy of our expedition leaders allow us to get you out daily, often twice a day on forays. Head off in a Zodiac to view massive cliffs or slip into the cathedral-like vault of Fingal's Cave. Make landfall on remote beaches like the UNESCO World Heritage site of St. Kilda's. Enjoy long hikes or short walks through countryside of near-mythic pastoral charm. Stand at the heraldic promontory of Dun Angus, imagining the defenses against marauders. Or linger with your historian at the pre-historic village of Skara Brae. Experiences involving the expedition team's knowledgeable guidance alternate with opportunities to roam freely through quaint port towns, inspecting the endemic shops, bookstores, tearooms and pubs that make the life of the isles so picturesque.
Window on the wildness
And when you're back aboard: catch the day's Recap, read, write, organize photos on your laptop, or socialize over drinks or dinner––also highly gratifying activities. Explorer's acres of panoramic windows and balconies bring the ever-present scenery of ocean and shoreline inside.
See the rare North Atlantic undersea
We are the only expedition company that voyages with an undersea specialist as part of the expedition team. The undersea specialist suits up and dives, or mans a ROV (Remotely Operated Vehicle) able to descend to 1,000 feet—and brings back footage of the life beneath the ship for you to enjoy in vivid high-definition on plasma screens in the Lounge. We guarantee you will be astonished by the fascinating life forms of these cold waters. And given the history of shipping and naval warfare that's unfolded in these waters, our undersea specialist could even chance upon a wreck.
Share the adventure
Whether they're fellow guests, members of the expedition team, a National Geographic photographer, or a guest speaker, you're sure to find the company of the like-minded others on board interesting. And you'll benefit from those who know: the on-board talks, slideshows and presentations will take you ever deeper into the richness and depth of this geographic—to which so many Americans are connected in so many ways.
Enjoy the daily ritual
Each evening at cocktail hour the entire expedition community gathers in the lounge for a ritual we call Recap. As you enjoy cocktails and hors d'oeuvres, various naturalists give talks, the undersea specialist may show video, and your expedition leader will outline the following day's schedule.
Savor time aboard ship
Wildlife, history and guest speaker talks will be offered at various times throughout the voyage, as well. And when the ship is underway, it's a wonderful time to stand on the bow with a naturalist, National Geographic photographer or photo instructor. And visit the bridge, where you are always welcome to watch the calm, serious business of navigation unfold.
British & Irish Isles Itineraries
British & Irish Isles Brochure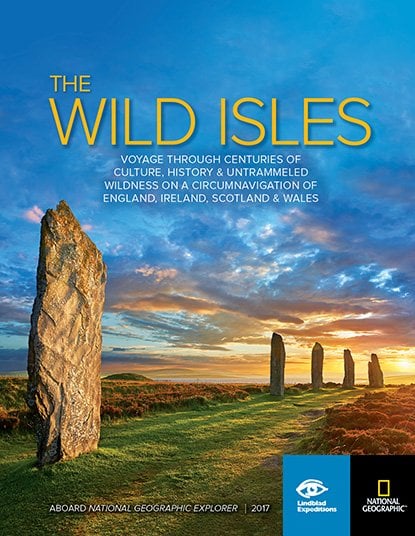 View online or have one mailed to you. It's free!
Brochures & DVDs