Europe aboard NG Orion
Active
A dynamic experience of the landscape & culture
So much of European travel has always existed between two poles: passive sightseeing with highlights assured for those willing to forego being active, or intense planning on the part of those travelers who wanted to actively experience singular facets of Europe.
Our European itineraries combine the best of both: the glorious passivity of having everything arranged for you, and the assurance of active discovery — thanks to a daily menu of options presented by our onboard concierge.
Hike to the cliff-top ruins of Hammershus Castle in Denmark or meander through the medieval cobblestone streets of Stockholm's Gamla Stan. Zodiac around the British Isles of Scilly, sample wine in the French countryside, or bike across windswept Scandinavian beaches. Select any of our journeys (or several!) and you are sure to have a dynamic and fully engaged experience of the physical and cultural landscape of the region you choose.
Be as active, or as leisured, as you choose. You might want to challenge yourself with a dive down to the historic battleship wrecks of Scapa Flow in Scotland, or get a unique view of Stockholm on a rooftop walk; then again you may decide to spend your time having a pint at a traditional English pub in Portsmouth or wandering through the streets of Bilbao's old quarter, bird-watching on the Scottish Isles, or museum-hopping in Gdańsk. Rev up or slow down. It's up to you.
Europe aboard NG Orion Itineraries
Europe Compendium 2017 MultidestinationBrochure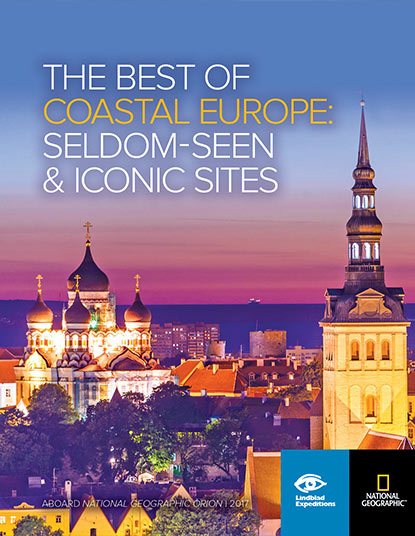 View online or have one mailed to you. It's free!
Brochures & DVDs