Europe aboard NG Orion
Effortless
Spend your time on what matters to you & leave the details to us
We've designed these itineraries to maximize your opportunities and minimize the effort for you, so you can focus on experiencing the Europe you want to see.
Trust us to orchestrate an engaging, illuminating travel, with exclusives and insider access giving you opportunities any other form of travel couldn't provide.
Each day, plenty of choices, all arranged and waiting, will be offered to you by our onboard concierge. Choose amongst walking tours, delicious meals, hikes, cycling trips, and even scuba dives where relevant. In addition, museum and cathedral visits and much more have been carefully curated for you, some even include special access hours or behind-the-scenes visits. And, of course, time built in for you to explore on your, including docking in certain charming ports so you can experience the nighttime delight of local towns.
Fashionistas—rejoice! If you love the idea of having all the clothing options you want, then the ability to embark National Geographic Orion and only unpack once is clearly an advantage. And even if you're an overhead-compartment traveler only, the 'safari lodge' convenience of exploring much but packing & unpacking never will certainly appeal.
Imagine visiting Europe with no tedious airports or rail-yards, no transfer points to find on a map. Your well-appointed hotel travels with you. And, you will enter the great European cities greet them as they were originally built to be greeted—by sea. Sail into the most beautiful ports in the world and experience the grandeur of the medieval and Renaissance architectural imaginations.
Europe aboard NG Orion Itineraries
Ready To Book?
US: 1.800.397.3348
Int'l: 1.212.261.9000
Weekdays 9a - 10p (ET)
Weekends 10a - 5p (ET)
Or call your travel agent
Our online reservation system is always available.
Important Flight Information
Please talk to an Expedition Specialist before booking your airfare.
Europe Compendium 2017 MultidestinationBrochure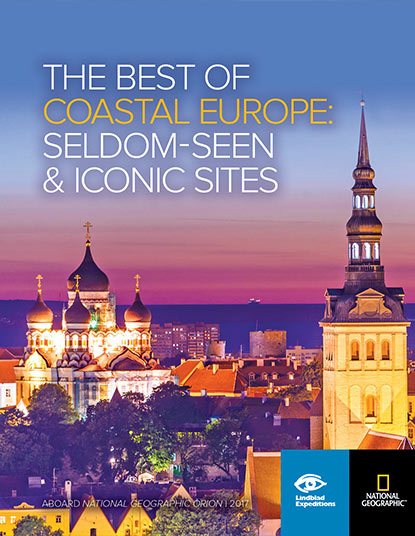 View online or have one mailed to you. It's free!
Brochures & DVDs
Hotels arranged before or after your voyage
Learn more