Europe aboard NG Orion
Insightful
Authentic encounters & expert companions
Lindblad Expeditions' reputation is built on the perfect harmony between the places we go, and the people who accompany you. Our renowned staff has been the conduit to insight for thousands of travelers. For nearly 50 years our meticulously planned itineraries have been conceived of as a narrative whole rather than a succession of episodic events, leading to meaning and memories.
Our new Europe program profits from nearly 50 years of planning experience. Meticulous development, plus experience in understanding what travelers want and what rewards your time and curiosity allows us curate exceptional experiences on eleven unique itineraries.
Traveling in the company of excellent European historians and regional experts, you'll see more and gain a richer perspective on art, history, sustainability and more of what makes each individual region we explore unique and interesting. Travel on your own in Europe, and you might have delightful unplanned encounters with locals. With us, it's assured; we orchestrate opportunities for you— embedding with the locals for unique opportunities to have fun together. Assist gourmet chocolate-makers in Bayonne, discuss Norwegian living with locals over coffee, or collect mussels with local fishermen in Villagarcia de Arousa. Take a private backstage tour of Oslo's new Opera House or Zodiac the rugged, seabird-inflected coast of England with expert naturalists. And tour cathedrals, mosques, churches, fortresses and museums with expert docents. Return home something of a passionate expert yourself, and with improved photography skills thanks to our onboard National Geographic photographers.
Europe aboard NG Orion Itineraries
Ready To Book?
US: 1.800.397.3348
Int'l: 1.212.261.9000
Weekdays 9a - 10p (ET)
Weekends 10a - 5p (ET)
Or call your travel agent
Our online reservation system is always available.
Important Flight Information
Please talk to an Expedition Specialist before booking your airfare.
Europe Compendium 2017 MultidestinationBrochure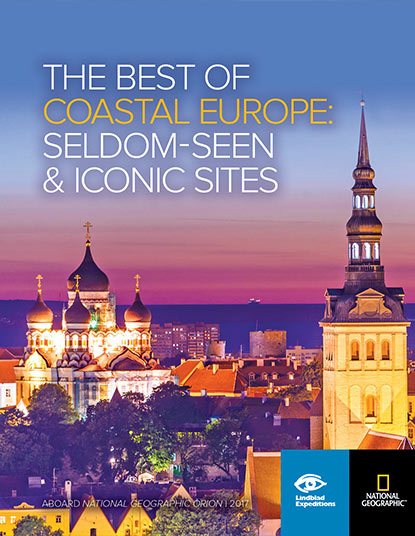 View online or have one mailed to you. It's free!
Brochures & DVDs
Hotels arranged before or after your voyage
Learn more