Europe aboard NG Orion
Top 10 Reasons
See why traveling to the Europe with us should be on your must-do list
1. The 102-guest National Geographic Orionis easily the smallest luxury ship navigating Europe's picturesque coastlines and waterways, for an intimate, personal engagement with every destination. Thrill to arrival as we enter historic cities and towns the time-honored way—through the front door: the sea.
2. An onboard concierge. In keeping with the spirit of curation, our concierge will assist with a wide variety of daily event choices to suit your individual interests, including active, cultural, or more sedentary options, independent exploration, special arrangements, off-ship dining, and more.
3. All-inclusive experience. The prices for our Europe voyages include everything you can do, see, enjoy and experience. This even includes FREE AIR, bar tab, crew tips, and a 10% savings when booking two or more voyages.
4. A National Geographic photographer accompanies every European departure. There to inspire and assist whether you're a beginner or an advanced hobbyist, he or she will help you capture the moments, avoid the inevitable clichés, and return home with your best photos ever.
5. An ethnomusicologist on the team. For a unique perspective on Europe's cultural diversity, our musicologist Jacob Edgar has curated a series of exclusive performances and special concerts by each region's top musicians for you.
6. An all five senses approach to travel. Lindblad-National Geographic's commitment to sustainably produced food and sea food means that you will have uniquely satisfying opportunities to savor interactions and food on all 11 of our Europe itineraries—including small-scale farmers, exceptional boutique vintners, olive growers, distillers of the world's finest ports, chocolatiers, and oyster harvesters. Taste a goat cheese one can only have in Norway's fjordlands, or a local grilled Sardinia sausage with Sardinian wine—exclusively prepared for us in a private farm kitchen that has been featured in top shelter magazines.
7. Cool tools for exploring aboard National Geographic Orion is the only luxury ship voyaging in Europe with a fleet of Zodiacs, kayaks and bicycles aboard to make 'getting out there' to enjoy up-close, personal explorations uniquely fun and genuinely effortless.
8. Expert itinerary development and curation. Our European field team, which includes members who live, or have lived, in various European cities, spent weeks in the field to devise our itineraries, and to orchestrate the singular, exclusive, thoroughly engaging activities and events that will make your National Geographic Orion experience uniquely memorable.
9. A different pace. Our itineraries offer perfect pacing. We've scheduled earlier embarkation times than ever before, boarding by 1:00 pm, so you can settle in, relax and enjoy lunch aboard the ship as the crew prepares to set sail. Another valuable aspect of our pacing is more time in ports to explore deeper, with at least one evening ashore for a local dinner. And free time is always built in, because strolling unknown streets, or sitting at an outdoor café to enjoy the summer street life, art, and music is a vital part of a Europe experience.
10. Small groups and personal transport. Our itineraries, focused on choice, preserve small guest groups. No ungainly herding to and through thronged tourist sites. We've arranged for vans, jeeps, and other appealingly scaled options to avoid that "If it's Tuesday, it must be Belgium" feeling.
Europe aboard NG Orion Itineraries
Europe Compendium 2017 MultidestinationBrochure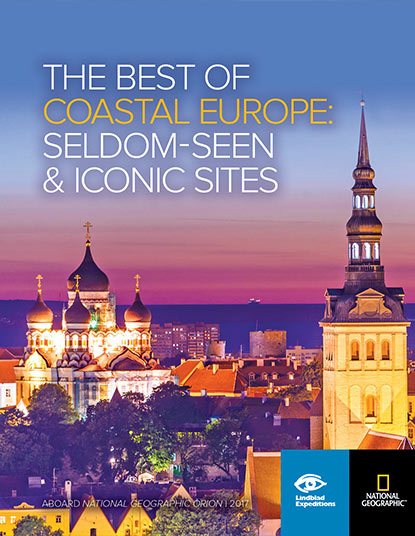 View online or have one mailed to you. It's free!
Brochures & DVDs
Ready To Book?
US: 1.800.397.3348
Int'l: 1.212.261.9000
Weekdays 9a - 10p (ET)
Weekends 10a - 5p (ET)
Or call your travel agent
Our online reservation system is always available.
Important Flight Information
Please talk to an Expedition Specialist before booking your airfare.
Hotels arranged before or after your voyage
Learn more