Europe aboard NG Orion
Life Aboard
Amenities, great food, camaraderie, comfort & wellness
You'll find National Geographic Orion is unlike any other ship. Her appointments are luxurious, yet life aboard has a distinctly relaxed flavor with warm, unobtrusive service. The ambiance is intimate and subtly elegant. Orion, capable of taking you to the planet's most remote and wild places, is the perfect ship for experiencing the gentler wilds that are the fjords and soaring cliffs of Europe and the sparkling civilization of beautiful port cities, gracious towns and charming coastal villages. Whether it's the fresh bread baked daily, the panoramic views and gracious appointments, or the soothing wellness treatments in the spa, Orion is unrivaled for quality and comfort.
Whether your daily European adventures involve hiking ancient ruins, navigating shorelines by Zodiac, a visit to an art museum, or a shopping and dining excursion, you know that you will always return to the comfort of Orion and her 65 dedicated crew members. Have a massage to unwind, a sauna for sore muscles, or order refreshments brought to you, spa side, before enjoying dinner on the back deck, weather permitting, or in the dining room.
Expedition bonus: To complement your European adventure, we are picking up the bar tab and all tips for the crew. What better way to further introduce you to the birthplace of old world wines and spirits.
Dining
After a day exploring, you can relax in the comfort of Orion's main or observation lounges, share your day's stories with convivial company over a classic cocktail, an ice cold beer, or chilled champagne and enjoy the anticipation of another evening of fine dining.
Our degustation menus are created by one of Australia's renowned international chefs, Serge Dansereau, principal of Sydney's The Bathers' Pavilion. Serge has designed a selection of menus that reflect each of the European regions we explore. Orion's executive chef and team execute a daily, delicious companion menu, using the best and freshest seasonal produce from farmer's markets and providers along our itinerary route. Much of the food prepared aboard is sourced locally whenever possible from sustainable providers and we endeavor to always use seafood that is sustainably caught or raised.
Seating is open, allowing you to choose where to dine, and table sizes range from two to 12. And our style is relaxed and casual—there's never a need to dress up. More than opportunities to eat well, mealtimes are also opportunities to engage in the diversity of the expedition community—to join or be joined by naturalists, guest speakers, ship's officers, and fellow guests for stimulating and entertaining conversation.
Orion's adventurous spirit is also reflected in our selection of New World Australian, New Zealand, North American, and European wines: vintages from exceptional lesser-known wineries complement our range of familiar labels and wine styles.
Our philosophy is to adapt the dining experience to the environment so you can look forward to culinary styles which evolve from a la carte to casual 'on deck' barbecues, with classics like fresh fish from the markets or prime lamb cutlets.
Breakfasts are designed to set you up for a day of physical and mental activity. Hearty and always healthy, with a seasonal selection of fruit and yogurts, freshly baked breads and pastries, cheeses, cold cuts, and freshly made omelets to order. An early riser continental breakfast is served as well, and many guests choose to take their coffee and morning pastries out on deck.
Lunch is a favorite on-deck experience, perhaps accompanied by a beer or glass of wine, perfect for a more relaxed afternoon, and is usually served buffet-style on the outside deck (weather permitting), with salads and both hot and cold buffet choices available. There's nothing like a few days at sea to sharpen your appetite, so be prepared to indulge yourself during your time with us.
Depending on the day's activities, an afternoon tea with cookies, cakes or pastries, is served buffet-style in the lounge.
And regardless of whether a meal is buffet-style or served, our gracious wait staff is always present to attend your every need.
Inviting public spaces for gathering & relaxing
National Geographic Orion is a perfectly sized ship—with a warm and intimate feeling, yet large enough to offer a variety of public spaces, plus plenty of nooks and crannies. Depending on your mood, there are shipboard places that gratify the need for sociability, from large gatherings to quiet conversations with newfound friends. And places that reward your desire for contemplative time, to read in quiet or simply stare peacefully at the sea or shoreline.
Lounge: Centrally located, the lounge and cocktail bar is the hub of social life aboard Orion, comfortably seating all guests at once. Lounge seating is arranged to provide good views of the center podium; and multiple, state-of-the-art monitors on the surrounding walls ensure optimal views of presentations, slideshows, and videos. It's here where the community gathers for presentations, photography talks, guest speaker presentations, and the evening Recap, a long-standing Lindblad tradition. Recap is when our experts share stories and answer questions about the day's events, and the expedition leader presents the plan for the following day—as guests enjoy cocktails and hors d'ouevres. Large windows line two sides of the room, so guests who gravitate to the lounge to read or use their laptops during the day won't miss the dramatic views. The bar is inviting and casual, a perfect spot to have a cappuccino or choose from a variety of spirits, wines and beers.
Outdoor Café: The outdoor café is the choice for breakfast, lunch, and even dinner on selected evenings. The café offers alfresco dining for buffet breakfast and lunch. On warm evenings you may enjoy the same menu and service as presented in the restaurant. Weather permitting, every expedition features our signature dinner buffet or themed barbecue on selected nights.
Theater: We host occasional movies in our theater with surround-sound. Guests are comfortably accommodated in armchair-style seating.
Observation lounge & library: Located high atop Orion, the intimate observation lounge and library affords stunning 270º views. Early riser breakfast and afternoon tea are both served here. With panoramic windows running the entire length of this lounge, you'll feel as if you're almost floating above the ship while spectacular scenery dramatically unfolds outside. A wide range of books run the gamut from fiction to regional guides, and reference books on the wildlife and region you're exploring. Two photo kiosks are also available.
Mud Room: Located on the Expedition Deck, this is a 'wet area' allowing you to wash down boots after returning to the ship, thereby minimizing the risk of cross-contamination between pristine locations ashore.
Sundeck: You'll find padded teak steamer chairs beside the whirlpool hot tub, affording you a relaxing spot to read a book or simply doze in the sun. You'll find an ample supply of large beach towels close by.
Wellness: To complement the inspiring destinations we visit, we've designed a Wellness program. From early morning yoga or stretching on deck or in the lounge to massages and face, handy or body treatments inspired by the location, our wellness specialist will help you achieve a more relaxed and revitalized state of being.
Fitness Center: With sweeping ocean views, the fitness center is equipped with the following LifeFitness equipment: a step machine, a treadmill, a cross trainer, two bicycles, free weights and exercise mats.
Health Spa: The Health Spa offers a unisex dry sauna, the gymnasium is equipped with cardio vascular exercise machines and a range of massage/spa treatments are available.
Whirlpool Hot Tub: A whirlpool hot tub is located on the sundeck. In warmer climates you'll find the hot tub affords a cool dip, doubling as a plunge pool.
Europe aboard NG Orion Itineraries
Europe Compendium 2017 MultidestinationBrochure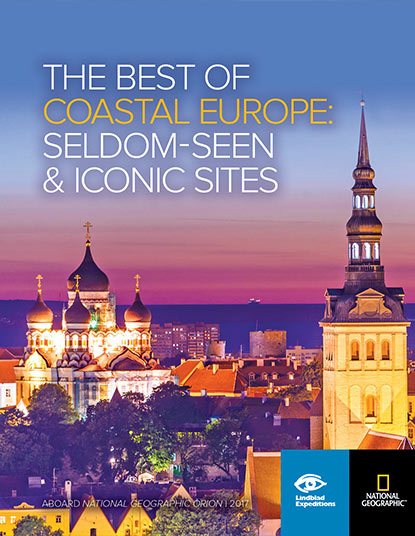 View online or have one mailed to you. It's free!
Brochures & DVDs