Europe aboard NG Orion
Pack Your Camera
Take your best-ever shots of Europe & post your images with pride
Imagine standing on the bridge with the Captain and crew as they navigate into port along the French coast or thread pristine Norwegian fjords. Or standing on the deck as the quintessential sunset flames the Mediterranean sky. Capture sea birds wheeling above National Geographic Orion, or Scandinavian cityscapes. Head off on your bicycle to take photos in the countryside. Or head out with your National Geographic photographer and go "on assignment," learning how a top pro approaches a magazine editorial piece on, for example, a charming Baltic town.
Thanks to the alliance between National Geographic and Lindblad Expeditions, you'll have an unprecedented opportunity to share an "aim & create" adventure with a National Geographic photographer. Get helpful assistance with camera settings, shooting tips, or simply the inspiration to see in new ways.
You'll get to participate in unique onboard share and learn opportunities too, including one-to-one critiques, presentations and slideshows, plus "laptop gallery" events. Whether you think of yourself as a beginner, a hobbyist, or an advanced photographer, you'll go home a better, more confident image-maker—with a killer photo album, from one European region, or more— remember, you save 10% when you combine any 2 or more voyages, in any sequence or combination.
Europe aboard NG Orion Itineraries
Europe Compendium 2017 MultidestinationBrochure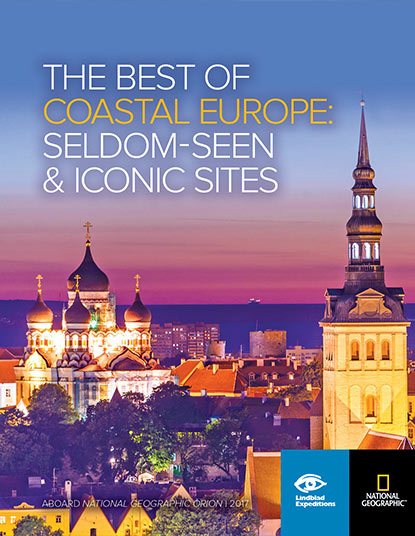 View online or have one mailed to you. It's free!
Brochures & DVDs
Hotels arranged before or after your voyage
Learn more