The Mediterranean
Top 10 Reasons
See why traveling to the Mediterranean with us should be on your must-do list
1. The sailing yacht Sea Cloud. The grandest privately-owned tall ship, she has an extraordinary history. Elegantly outfitted, she is extremely gracious, and our trademark casual expedition style marries informality to her elegance.
2. The romance of sailing. Sea Cloud offers an experience not otherwise available today—tall ship sailing. A crew of 18 raises and lowers Sea Cloud's 30 sails by hand, the old-fashioned way. It is a thrilling sight, and a powerful feeling.
3. Perfect synergy between ship and destination. You explore Homer's "wine dark seas" the way the ancients did, under sail. And you ply ancient trade routes between perfectly spaced islands and coastal sites, driven by sure winds over the wrecks of ancient treasure ships, as our onboard historian brings the maritime history of the region to life for you.
4. A diversity of itineraries. There's a choice of three—Sicily and Malta, Greece and the Dalmatian Coast, Greek Isles. Each highlights different geographies, cultures and experiences on your Eastern Mediterranean vacation.
5. Carefully crafted experience. You'll explore cultures, history, archeology, art and modern life throughout your expedition. Your site visits are timed—to take advantage of the least-crowded times and ideal temperatures. And you are accompanied by knowledgeable staff who can illuminate all you'll discover.
6. Seasoned expedition leader. Tom O'Brien is expedition leader on most Sea Cloud Mediterranean departures. He began working on Sea Cloud in the 1980s, and has 30+ years experience with Lindblad Expeditions, coupled with a passionate interest in these geographies.
7. The most knowledgeable and experienced staff. Our veteran experts illuminate every facet of the Mediterranean. With you throughout your expedition, their insight and engaging companionship deepens your understanding and appreciation.
8. Excellent guest-to-guide ratio. With one Lindblad or National Geographic expert per fifteen or fewer guests, you'll have lots of interaction and plenty of time for questions and discussion. On board the Sea Cloud, a crew to guest ratio greater than 1:1 insures the highest level of service.
9. Exceptional hotels. Depending on your itinerary, you'll stay in in Athens and/or Istanbul, in the finest hotels.
10. Capture your experience. A Lindblad-National Geographic certified photo instructor is aboard every departure, to help you with your camera, basics of composition and to take your best photos ever.
Mediterranean Itineraries
Mediterranean 2017-18 Brochure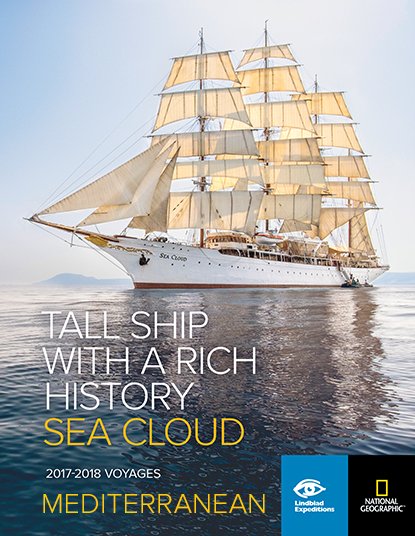 View online or have one mailed to you. It's free!
Brochures & DVDs
Greece Weather
JAN-MAY
JUN-DEC
LOW TEMP
65-70°F
65-70°F
HIGH TEMP
85-90°F
75-82°F
WATER TEMP
85-90°F
62-68°F