The Mediterranean
Cultural Experiences
Storied sites of antiquity
Sun, steady winds, far-reaching Mediterranean culture and history, archaeology, mythology, and the tranquility of small, off-the-map villages—The Sea Cloud's season in the iconic Aegean, Ionian, and Adriatic Seas is historically rich and scenically beautiful.
The Cyclades are the essence of the Greek Isles, the islands the gods called home, the isles of the imagination, where colorful fishing boats reflect in azure waters; whitewashed villages cascade down rugged slopes; and the scents of rosemary and lavender fill the air. Many of the Cyclades remain virtually unknown to all but native Greeks and discerning travelers. They encompass Santoríni, Folégandros, and the sacred sanctuary of Delos, one of the most important archaeological sites in the western world, among other delights to discover.
The Dalmatian Coast is, for even the most sophisticated travelers, a revelation. Montenegro, for example, is stunningly beautiful, with art and architecture of surpassing achievement.
On deck as we sail into Santoríni's caldera reveling at the cliffs from a sea view. Stroll Dubrovnik's Old Town, where marble-paved streets lead us to a private performance of traditional klapa music. And marvel at Bodrum's Castle of St. Peter, built by Crusader knights in the 15th-century, now home to the Museum of Underwater Archaeology.
Our expedition provides ample opportunity to visit extraordinary places, absorbing the intriguing atmosphere, savoring the diverse flavors of the food and wine. And thanks to the skill and knowledge of our expedition team, what might otherwise be a string of pleasantly connected days, becomes an ongoing narrative, a cohesive tale woven to add to your understanding and appreciation of all you'll see and do.
Mediterranean Itineraries
Mediterranean 2017-18 Brochure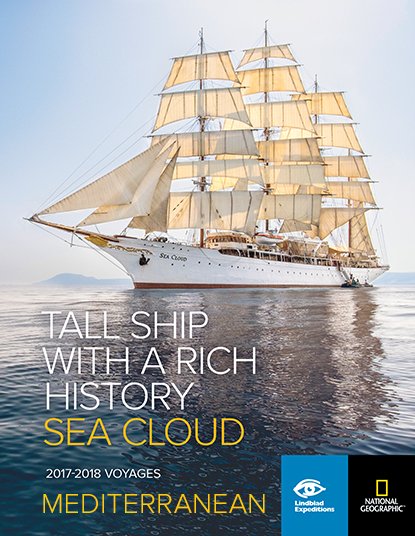 View online or have one mailed to you. It's free!
Brochures & DVDs
Greece Weather
JAN-MAY
JUN-DEC
LOW TEMP
65-70°F
65-70°F
HIGH TEMP
85-90°F
75-82°F
WATER TEMP
85-90°F
62-68°F