The Mediterranean
Mediterranean Expedition Team
Share the adventure with knowledgeable, engaging companions
The quality of our veteran staff and their companionship is the reason the Lindblad name is known and respected for top-quality expeditions. And now that we are aligned with National Geographic, there is no better team anywhere.
The team composition
Every expedition sails with a veteran expedition leader, a historian, and a naturalist who is also a Lindblad-National Geographic certified photo instructor. With an extensive background in the region and knowledge of its natural history, human history, archaeology, and mythology, you can rely on our Mediterranean travel guides to enhance your experience of each place you visit.
Featured Mediterranean Team Members
Mediterranean Itineraries
Mediterranean 2017-18 Brochure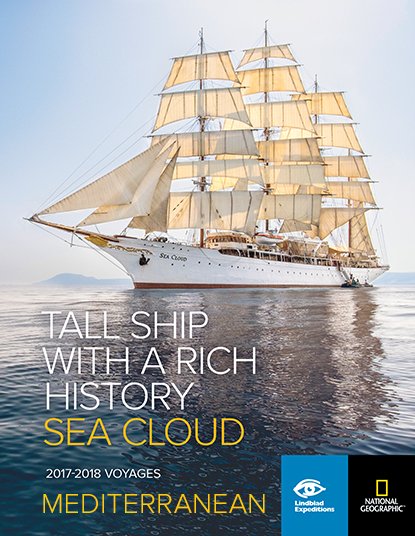 View online or have one mailed to you. It's free!
Brochures & DVDs
Virtuoso Life
See what well-known publications say about exploring with us
Read the article
Greece Weather
JAN-MAY
JUN-DEC
LOW TEMP
65-70°F
65-70°F
HIGH TEMP
85-90°F
75-82°F
WATER TEMP
85-90°F
62-68°F
Guest comments
"Everyone at every level of crew to expedition team to guides to transport team was excellent. I injured my foot prior to the trip and everyone took my needs into consideration. I can't thank everyone enough for all their kindness."
-Paul L. & Kathy T.
READ MORE