The Mediterranean
What It's Like/What You'll Do
How you'll spend your time & reward your curiosity
The harmony of wind and sail

The historic sailing yacht Sea Cloud is far more than a souvenir of a golden age. While full of theglamour and sophistication of the '30s and her original owner, Marjorie Merriweather Post, it's also a thoroughly modern yacht in terms of safety technology and creature comforts—giving you the best of both worlds: golden age elegance plus the informality that characterizes our expedition. From the moment you step aboard you'll feel the soul of the ship—as surely as you'll feel the winds filling square sails.
It takes the crew one hour to set the sails, and one hour to take them down again, using muscle, skill, and the power of 16 gifted sailors. Our Mediterranean itineraries are crafted to take advantage of the reliable, prevailing winds that conduct us, in harmony with nature, from point to point, much like ancient explorers.
And, when the square sails are run out from the massive yardarms, you'll experience something few do in the 21st-century: the mighty allure of seeing a tall ship sailed, as her nimble crew climbs the rigging in a splendid choreography, arranging the lines and unfurling the sails with precision and skill. It's a sight to behold, one rarely seen by today's travelers.
A destination within a fabled region
Our expedition style is casual all the way—in pleasing contrast to the elegance of Sea Cloud's black-tie décor and appointments. Lounge in the stern section Marjorie Merriweather Post nicknamed the Blue Lagoon. Read or nap in a lounge chair. Gather on the Lido deck to socialize in your T-shirt, shorts, or bathing suit, as the spirit moves you. And explore the ship's nooks and crannies. Whether we're relaxing while underway or gathering for talks, enjoying Sea Cloud's gracious spaces is a restorative for body, mind, and spirit.
Active, immersive, with fresh discoveries daily
While Sea Cloud is for many the destination, each day's activities will inevitably prove tempting enough to engage even the most resolute lounge chair reveler. And there are regular talks by and discussions with our staff experts aboard Sea Cloud.
Antiquity and serendipity: the magic of expedition travel
Literally meaning "the sea in the middle of the earth," the Mediterranean has deeply influenced Western history and culture. Our itineraries are studded with archaeological landmarks, with sites both legendary and seldom-seen. But our expedition style is also designed to balance active exploration with reflection and relaxation—so plan to discover isolated beaches, small fishing villages, welcoming people, and quiet beauty. To have all go according to plan. And to have unplanned moments, a gathering in a Greek taverna perhaps, you'll remember forever. Our expedition team's goal is to share their passion for this fascinating region, and satisfy your appetite for surprise and delight.
Mediterranean Itineraries
Mediterranean 2017-18 Brochure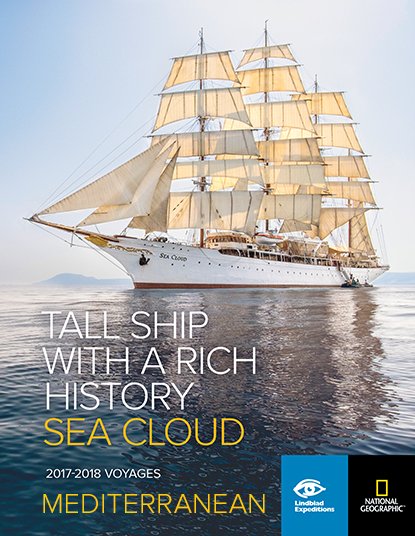 View online or have one mailed to you. It's free!
Brochures & DVDs
Virtuoso Life
See what well-known publications say about exploring with us
Read the article
Greece Weather
JAN-MAY
JUN-DEC
LOW TEMP
65-70°F
65-70°F
HIGH TEMP
85-90°F
75-82°F
WATER TEMP
85-90°F
62-68°F