Scotland
Lord of the Glens
Offering a unique perspective on Scotland in grand style
The moment you step aboard the 48-guest Lord of the Glens you are surrounded by the rich mahogany finishes and touches of teak and brass. The ship is magnificently appointed with cozy overstuffed furnishings in its lounges and quiet corners—it brings to mind a stately country manor rather than a five-star ship.
Uniquely suited to cruise Scotland
The Caledonian Canal runs through the heart of Scotland's highlands offering a gracious and picturesque avenue for exploration. The Inner Hebrides offer exceptional scenic vistas and quaint seaside villages. Few, if any ships other than Lord of the Glens exist that can sail through the narrow canal and also among the islands of the Scottish coast—Lord of the Glens does both in grand style, offering the most holistic experience of Scotland available.
The style of life aboard
All cabins are outside facing with windows (or portholes on the James Watt deck), and each has comfortable furnishings and traditional highland décor. Relax on the open, expansive decks—to take the moorland air and the views, or to sip a single malt with friends. The ship's inviting lounge is the hub of expedition community life—for presentations, films, and photo slideshows. Meals are served in the dining room in a single seating, with unassigned tables for casual and easy mingling.
Scotland 2017 Brochure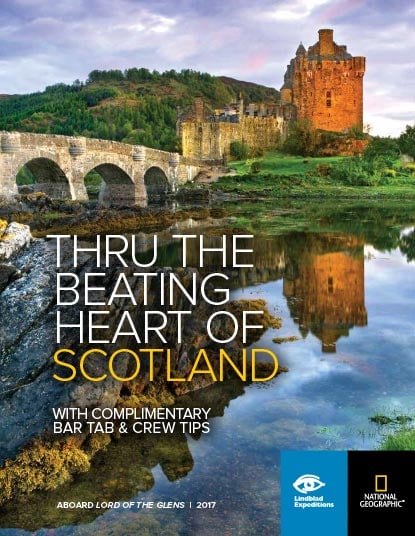 View online or have one mailed to you. It's free!
Brochures & DVDs
Scotland Itineraries Aboard Lord of the Glens