Scotland
Top 10 Reasons
See why traveling to Scotland with us should be on your must-do list
1. A trip of a lifetime. National Geographic Traveler named this voyage a "Trip of a Lifetime" for authenticity, immersion, sustainability and connection.
2. Our ship. The motor yacht Lord of the Glens is comfortable and elegant. And it was purpose-built to travel the inland waterways and voyage the coast. Fine local cuisine, including local produce and sustainably caught fish, is served by a friendly Scottish staff.
3. Perfect balance. This voyage provides a unique opportunity to appreciate both the natural world and the unique human history that has grown from the land.
4. Incomparable staff. Travel in the company of an authority on Celtic/Gaelic cultures, and a naturalist who will illuminate the romance of Scotland's wild places.
5. Highlands and Islands. Discover the very different cultures that developed in the Scottish highlands and in the islands of the Inner Hebrides.
6. The Scottish Highlands. Transit the Caledonian Waterway from near the North Sea to the Atlantic Ocean, including Loch Ness and Neptune's Staircase, a series of eight locks.
7. Quintessential Scottish Islands. Explore the inner Hebrides and discover island life on Mull, Iona, Eigg and Skye.
8. Landscape in an easy way. The pace offers plenty of opportunity to savor the landscape for which Scotland is known: rolling hills, craggy escarpments, and seaside villages.
9. History and culture. Visit the battlefield of Culloden and the standing stones of Clava. See the cairns, castles, villages, and pubs—and sample renowned Scotch whiskies.
10. Choice of daily activities. There are opportunities to hike, bike and take guided walks in the company of our knowledgeable and engaging staff. And kayaking on Loch Ness offers the opportunity for a personal encounter with exquisite landscapes.
Scotland 2017 Brochure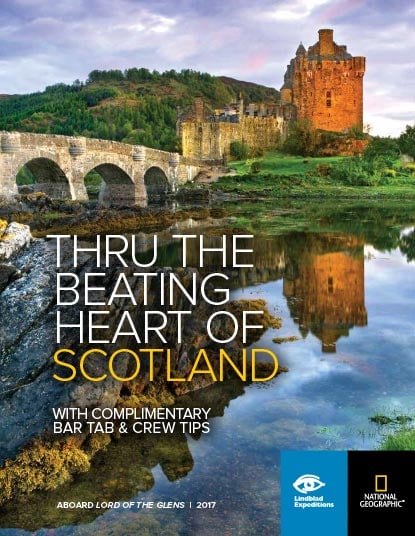 View online or have one mailed to you. It's free!
Brochures & DVDs