Scotland
Cultural Experiences
An intimate perspective on Scottish life, past and present
Trace history through the highlands in the footsteps of saints and clan leaders. Stand among ancient monuments and feel the shroud of history hang about the experience, the way the fog clings to the hauntingly beautiful moorlands. This is a land of ancient rituals, long-ruling clans, and royal graveyards full of monarchs. Experience the country, continuously inhabited for some six thousand years.
Explore sacred abbeys and the ruins of fine castles
Tour the fortress of Duart Castle with a walk through the depths of the dungeon. Visit the ruined abbey and the rebuilt church on Iona. Cruise past the fine ruins of Urquhart Castle on Loch Ness, where time pulls at 13th-century stone walls.

Trace history through the Highlands
Visit Culloden, the battlefield where Bonnie Prince Charlie's hopes for the throne were dashed in 1746. See the ancient standing stones of Clava Cairns. Paddle a kayak in Loch Ness, one of the most storied lochs in all the world. Stroll the royal graveyard at Iona where generations of Scottish kings are buried, and trace the legacy of the 1,300-year-old Clan Donald.
Visit waterfront towns and quaint villages
Enter secluded villages and stroll picturesque waterfront towns. Take advantage of the opportunity to hoist a pint at the most remote pub in all the British Isles. And, get a sense of what life is like for the roughly 90 souls who live at the isolated community on the tiny Isle of Eigg.
Whisky tastings & live Scottish music on board
Embark to the strains of a piper standing ashore. Spend evenings enjoying enchanting live music from local musicians along our route. Taste the very tang of Scotland in the oak and peat of Scotland's famed single malts during a whisky tasting.
Scotland 2017 Brochure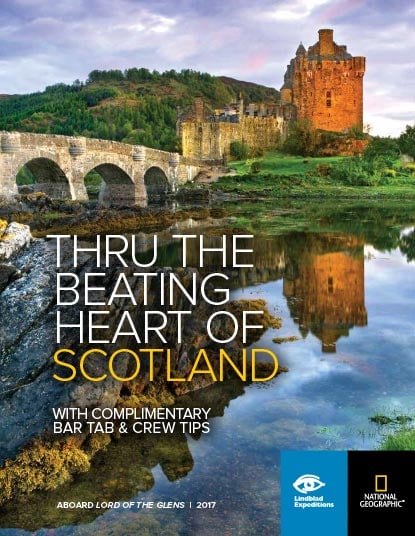 View online or have one mailed to you. It's free!
Brochures & DVDs
Scotland Weather
JUN-AUG
LOW TEMP
40-50°F
HIGH TEMP
60-70°F
WATER TEMP
N/A
Guest comments
"Everything was done to accommodate our every interest and wish."
-Kathleen B.
READ MORE