Scotland
Life Aboard
Amenities, great food, camaraderie & comfort
Traveling through Scotland's breathtaking countryside with its endless vistas and rare beauty gives you a spiritual lift. To compound this healthful effect, we add the luxury of comfort to the privilege of being there—with a quality of shipboard life and a philosophy of wellness designed to relax and rejuvenate body, mind, and spirit.
Informal ambience, relaxed attitude
There's no need to dress up ever; life aboard Lord of the Glens is casual all the way. There's no assigned seating in the dining room; in fact many tables accommodate uneven numbers. This makes for easy mingling and the fun of sharing breakfast, lunch, or dinner with different new friends, staff, or guest speakers. And independent travelers can count on a welcome everywhere they turn. We invite you to freely roam the ship, discovering the nooks and crannies. And you're always welcome on the bridge whenever you'd like to watch the calm business of ship navigation unfold.
Excellent food
Our chefs use fresh, local ingredients acquired along our route. An array of fresh fruits and delicious, fresh juices are key components of the breakfast buffet. There are fish or meat choices at every meal, and our chef will happily accommodate vegan or other special diet requests. The ship's hospitable hotel staff maintain stations for coffee, tea, soda, and water. Cookies are put out in the afternoon at teatime. And pre-dinner hors d'oeuvres are served in the lounge at daily Recap.
The personal ahhhhh factor
You'll find much more information in Our Fleet section, but suffice it to say that your cabin will be an inviting place to end your active day with comfortable furnishings and highland-oriented artwork. Satellite televisions let you keep up with the goings-on in the outside world.
Sociable spaces, quiet corners

The top of the ship features the lounge, the center of the expedition community, where we gather for talks and daily Recap. The terrace is another gathering place, where guests mingle with staff to watch the beautiful countryside glide past. But the ship offers any number of places to pass time enjoyably alone, or with a small group—from the quiet of the library to the outdoor decks with tables and chairs.
Scotland 2017 Brochure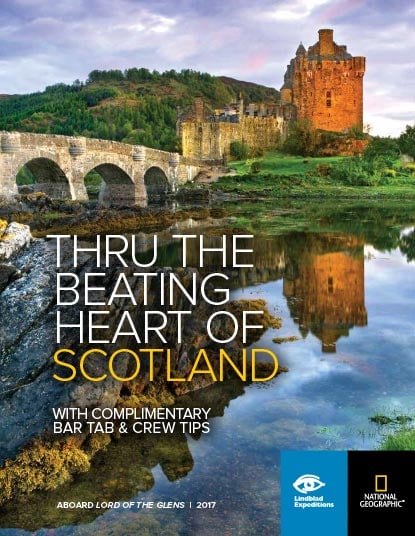 View online or have one mailed to you. It's free!
Brochures & DVDs
Scotland Weather
JUN-AUG
LOW TEMP
40-50°F
HIGH TEMP
60-70°F
WATER TEMP
N/A