Scotland
What It's Like/What You'll Do
How you'll spend your time and reward your curiosity
Lord of the Glens will be your base for an adventure through Scotland's countryside, cultures, and history. You'll explore grand castles, beautiful moorlands, sacred abbeys set in a land of long tradition from early clans and monarchs, and the site of Bonnie Prince Charlie's famed rebellion. You'll settle into the ship in no time, a rare vessel that feels like a cross between a private yacht and a country home.
Dive deep into the history and culture of Scotland
Connect with Scottish heritage and history through the sites we explore. Stroll Culloden, the battlefield where Bonnie Prince Charlie's forces were defeated. Walk among the ancient standing stones of Clava Cairns. Trace the 1,300-year-old history of the Clan Donald that once ruled the west coast of Scotland. Explore abbeys, the ruins of fine castles, and visit a royal graveyard where generations of Scottish kings are entombed.
Hike, bike & walk the countryside

Walk alongside the tree-lined canal. Hike through the countryside, or use the ship's bikes to cover more ground and see more sites. See some of the country's most spectacular scenery at the Cuillin Hills. Plus kayak on Loch Ness, a rare experience.
Seek out the wildlife of Scotland
You may be lucky enough to see Atlantic seals, minke whales and a variety of seabirds among the islands of the Inner Hebrides. And staff from the Wings Over Mull Conservation Centre come aboard one evening to talk about native birds of prey.
Enjoy the daily ritual
Each evening at cocktail hour the entire expedition community gathers in the lounge for an expedition ritual we call Recap. As you enjoy cocktails and hors d'oeuvres, your naturalist or historian may give a talk, and your expedition leader will outline the following day's schedule. You may find, as have many others, that Recap remains one of the fondest memories of your expedition experience.
Savor time aboard ship
History talks and guest lectures will be offered on some afternoons, as well. And, when the ship is underway, it's a wonderful time to stand on deck to enjoy the beauty of the Scottish countryside, visit the well-appointed library, or the bridge to see the calm ritual of navigation unfold.
Scotland 2017 Brochure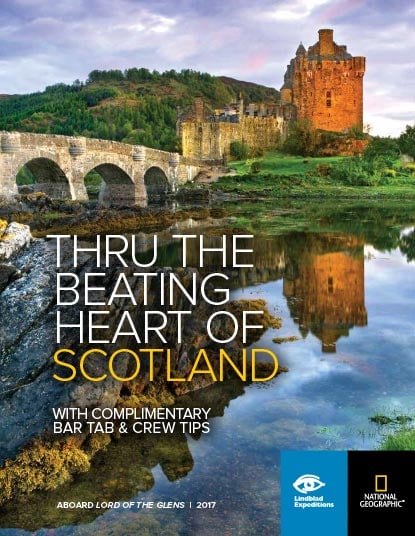 View online or have one mailed to you. It's free!
Brochures & DVDs
Scotland Weather
JUN-AUG
LOW TEMP
40-50°F
HIGH TEMP
60-70°F
WATER TEMP
N/A