Alaska
Big Picture Alaska
11 Days
NG Sea Bird
62 Guests
Expeditions in: Jun / Jul / Aug
From $8,990 to $15,740
Itinerary Overview
Focus on photography in the fjords & channels of Southeast Alaska
Embark on an immersive, wide-ranging photo expedition that focuses entirely on Alaska's famed Inside Passage. You'll experience the perfect mix of small-town life and the grand expanse of the wild landscape that surrounds it. Capture it all with the help of our Lindblad-National Geographic photo expedition team. This expedition enables you to:
Raft though the Chilkat Bald Eagle Preserve, which boasts the largest congregation of bald eagles in the world
Explore Glacier Bay National Park, Misty Fiords National Monument, and search for humpback whales in their summer feeding grounds
Kayak amid glacial ice, hike the Tongass National Forest and learn about the region's rich Tlingit heritage
Benefit from a top photo team
Sailing with you aboard the 62-guest National Geographic Sea Bird will be a team of top photographers to ensure you go home with top shots. Whether you're new to photography or a published pro eager to add Alaska to your portfolio, you'll find our expedition team is adept at curating photo ops with outings timed to take advantage of morning and evening light and insights into wildlife movements that will help you create dynamic shots.
Ample time to discover Alaska's iconic wildlife
More time in the region means more chances for encounters with wildlife. This expedition spans the lower and upper reaches of Alaska's inside passage, with more time for kayaking, hiking, and cruising among the iconic wildlife and ice of the region.
Get a slice of Alaskan life in Haines
This voyage will take full advantage of all that Haines Alaska, the state's "Adventure Capital," has to offer. Head out on active excursions, get to know the small town's arts community and, since we'll linger into the evening, be sure to stop at local lively bar to hoist a pint or two of local craft ale
NOTE: This itinerary runs in "
reverse
" on some departures.
Special Offers
early bookings savings
2017 prices are guaranteed for all 2018 departures if booked by June 1, 2017. After June 1, 2017, call or visit expeditions.com for new 2018 prices.
Alaska 2017 Brochure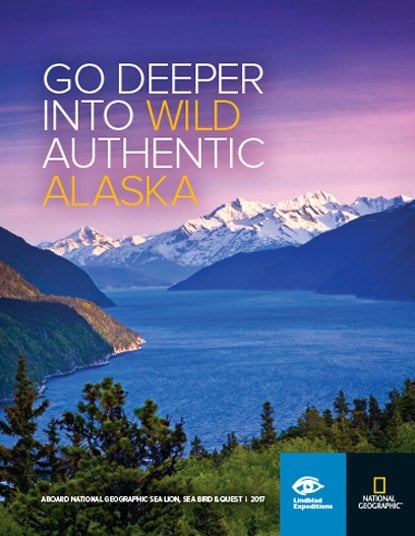 View online or have one mailed to you. It's free!
Brochures & DVDs
Ready To Book?
US: 1.800.397.3348
Int'l: 1.212.261.9000
Weekdays 9a - 10p (ET)
Weekends 10a - 5p (ET)
Or call your travel agent
Our online reservation system is always available.
Important Flight Information
Please talk to an Expedition Specialist before booking your airfare.