Alaska
Alaska Expedition Team
Share the adventure with knowledgeable, engaging companions
Over the 30+ years of our history in Southeast Alaska, the quality of our veteran staff, and their companionship is the reason the Lindblad name is known and respected for top-quality expeditions. And, together with National Geographic, there is no better team anywhere.
The most robust expedition team in Alaska
Explore with one staff member on board per every 10 guests—the most robust team working in Alaska. Every expedition sails with a six-person team comprised of a veteran expedition leader and five naturalists, including an undersea specialist and a Lindblad-National Geographic certified photo instructor, plus a wellness specialist. Together, our Alaska travel guides will provide you with a greater understanding and appreciation of this exceptional place.
More specialties and personalities

With more naturalists per guest than any other company in Alaska, you're ensured a healthy diversity of naturalist specialties—marine biology, evolutionary biology, ornithology, and more—and personalities. You are never directed into groups or assigned. You're free to gravitate to the naturalists whose interests mirror your own. And our team will make each day of your expedition deeply rewarding.
Featured Alaska Team Members
Alaska Itineraries
Alaska 2017 Brochure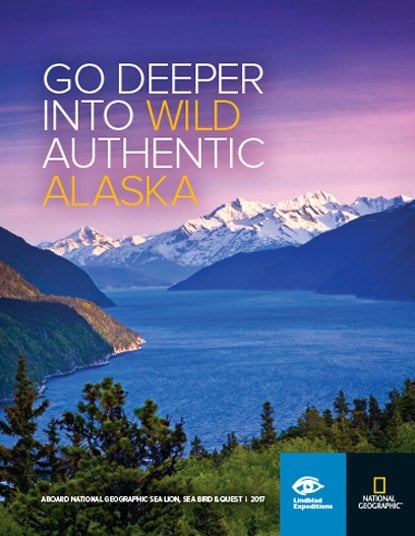 View online or have one mailed to you. It's free!
Brochures & DVDs
Boston Globe
See what well-known publications say about exploring with us
Read the article
Alaska Weather
APR-SEP
LOW TEMP
39°F
HIGH TEMP
60°F
WATER TEMP
N/A
Guest comments
"Everyone was knowledgeable and well able to explain and share their information with anyone. Their enthusiasm is contagious!"
-Peter & Ann G.
READ MORE