Alaska
Pack Your Camera
Capture Alaska and take the best photos of your life
With breathtaking vistas and iconic wildlife, Alaska is a photographer's paradise. We'll take you to the best places and set you up for the perfect shot. And, with the benefit of a trained professional as a traveling companion, you're sure to go home with incredible images.
Exclusively ours: Expedition Photography program
Every Alaska departure offers the services of a Lindblad Expeditions-National Geographic certified photo instructor. This veteran naturalist is specially trained to assist you with camera settings, the basic elements of framing, composition, and lighting; and to provide tips to ensure you go home with fantastic photos. You'll be able to capture the moments at the heart of your expedition, and go home a better, more confident photographer—with some of the best shots of your life!
Get even more on a special Photo Expedition
Photo Expeditions are specially designated departures, custom-tailored for immersion in photography—whether you're a beginner, advanced hobbyist, or serious shooter. Explore Alaska where photo ops abound with an expert at your elbow to give you the tip you need when you need it—and all the time you need to get your shots right. Alaska Photo Expeditions feature outings timed to take advantage of the best light—aboard expedition landing craft for up close encounters with marine mammals, or on trail hikes. Plus, unique "share and learn" opportunities like onboard photo clinics, one-to-one critiques and inclusive "laptop gallery" events to see each other's shots.
Alaska Itineraries
Alaska 2017 Brochure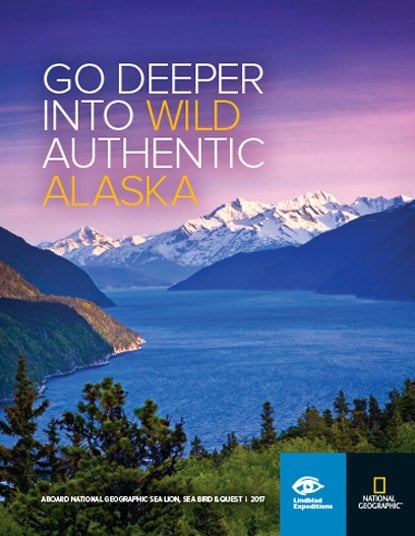 View online or have one mailed to you. It's free!
Brochures & DVDs
Nat Geo Photographer Flip Nicklin
Read Bio
Alaska Weather
| | APR-SEP |
| --- | --- |
| LOW TEMP | 39°F |
| HIGH TEMP | 60°F |
| WATER TEMP | N/A |