Alaska
Alaska Wildlife
Iconic and unexpected animals of the American West
Alaska is renowned for its iconic wildlife—whales, bears, and eagles. You're certain to see them, but you'll also discover much more. Strange and beautiful undersea creatures. Pods of orca and large groups of Steller sea lions. Bald eagles soaring and puffins swimming. Rough-skinned newts and carnivorous plants. Discover forests and seas brimming with life.
Richest whale experience possible
Our intimate 62-guest expedition ships are small and nimble, perfectly sized to allow us to navigate the wildlife rich channels and linger in the small bays where whales come to feed. Your naturalists will deploy a hydrophone to eavesdrop on the sounds of whale vocalizations, and researchers from the Alaska Whale Foundation will come aboard one day to share the most up-to-date findings on humpback whale behavior. With 30+ years of experience in the region, we know where to go for up close encounters with humpback whales.
Alaska's wild undersea
See kelp forests with giant Pacific octopuses, undersea ranges capped in white anemones, a vibrant underwater life in reds, purples, and yellows—all from the comfort of the ship's lounge. You'll see places never before viewed by human eyes as your undersea specialist dives beneath the sea to shoot video and share the wildlife and wonders of this world.
World's largest black bears and more
Haida Gwaii, which we visit on our Remarkable Journey to Alaska, British Columbia and Haida Gwaii itinerary is considered the 'Canadian Galapagos' for its endemic plants, land mammals and species of birds, including the world's largest black bears, plus other intriguing animals: deer mouse, shrew, river otter, ermine (weasel), pine marten, Northern Saw-whet Owl, Steller's jay and hairy woodpecker.
Alaska Itineraries
Alaska 2017 Brochure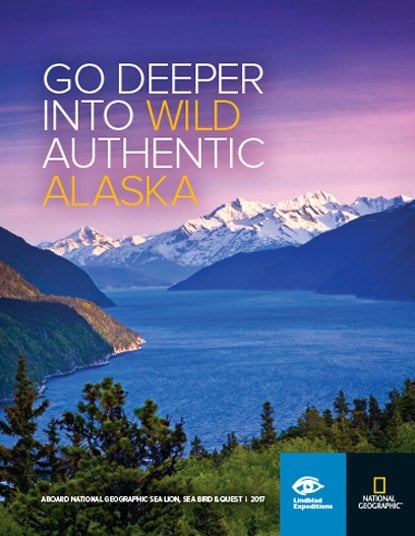 View online or have one mailed to you. It's free!
Brochures & DVDs
Boston Globe
See what well-known publications say about exploring with us
Read the article
Nat Geo Photographer Flip Nicklin
Read Bio
Alaska Weather
APR-SEP
LOW TEMP
39°F
HIGH TEMP
60°F
WATER TEMP
N/A