Henry David Thoreau called it the "tonic of wildness." It's what Baja California travel, with its beauty and wildness intact, gives you—a spirit lift. To compound this healthful effect, we add the luxury of comfort to the privilege of being here—with a quality of shipboard life and a philosophy of wellness designed to relax and rejuvenate body, mind, and spirit.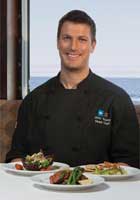 Informal ambience, relaxed attitude
There's no need to dress up ever; life aboard our ship is casual all the way. There's also no assigned seating in the dining room. This makes for easy mingling and the fun of sharing breakfast, lunch, or dinner with various new friends, staff, or guest speakers. Independent travelers can count on a welcome everywhere they turn. And, we invite you to visit the bridge whenever you'd like, to watch the calm business of ship navigation unfold.
Excellent food
Our chefs use fresh, local ingredients whenever possible, including locally grown produce, sustainably caught fish, and other local products. An array of fresh fruits and delicious, fresh juices are key components of the breakfast buffet, as are fresh vegetables and fish at lunch and dinner. An evening that always earns rave reviews is the beach barbecue—a relaxing and fun night under the stars. There are fish or meat and vegetarian options at every meal, and our chef will happily accommodate other special diet requests. The ship's hospitable hotel staff maintain always-open stations for coffee, tea, soda, and water. If the bar is closed, beer is available in a serve-yourself refrigerator. Cookies are put out in the afternoon at teatime. And pre-dinner hors d'oeuvres are served in the lounge at daily Recap. There are reuseable water bottles in every cabin and chilled, fresh water stations aboard for convenience.
The personal ahhhhh factor
You'll find much more information in Our Fleet section, but suffice it to say that your cabin will be an inviting place to end your active day—with locally sourced organic botanical products in the bathroom. And on your bed: our feather duvet in a tropical weight, with an organic cotton cover, and cotton sheeting.
Sociable spaces, quiet corners
The lounge is the center of the expedition community; where we gather for talks and daily Recap. The bow and sundeck are other gathering places where guests mingle with staff to scan the sea for marine mammals. And the ship offers an outdoor deck with tables and chairs to pass time enjoyably alone, or with a small group.
Rise, shine, and connect with wildness
Greet the morning with a pre-breakfast exercise or stretching session on deck led by your wellness specialist. Or sleep in and take advantage of the ship's exercise bike, elliptical, resistance bands, and yoga mats at your convenience. A variety of hikes, kayaking, swimming, snorkeling, stand-up paddle-boarding, and beach-combing offer an even deeper connection with the wild world.
Onboard spa treatments
Massage therapy will relax and rejuvenate you. Choose to have a treatment early in the voyage to help transition into vacation-mode, or later in the voyage to soothe and revitalize tense kayak, camera, and hiking muscles.