Canada
Top 10 Reasons
See why traveling to Canada with us should be on your must-do list
1. Celebrating 125 years of National Geographic. Designed to celebrate the Society's 125th anniversary, trace the footsteps of Vikings and explorers with National Geographic Explorer-in-Residence Wade Davis and Chairman Emeritus of the National Geographic Board of Governors, Gil Grosvenor.
2. The finest expedition ship afloat, National Geographic Explorer. A fully stabilized, Ice-Class 1A expedition ship, with unmatched tools for exploration. Onboard you'll feel the comfort of her gracious cabins and public spaces and the personal attention of a dedicated crew.
3. Seasoned staff. Our Expedition Staff have been exploring the remote regions of the world for years, even decades. Their in-depth knowledge, on-the-ground experience and overwhelming enthusiasm will make your expedition.
4. Exclusive access. Enjoy a specially arranged private lunch on the grounds of the family home of Alexander Graham Bell, National Geographic's second president, and the great-grandfather of Gil Grosvenor.
5. National Geographic photographer. Travel with a National Geographic photographer for a rare, behind-the-scenes perspective. Whether you're an expert or an interested beginner, improve your images with useful tips in the field and view voyage slideshows for all to enjoy.
6. The undersea, illuminated. The oft-overlooked but intensely colorful and interesting undersea is an environment we'll highlight on every expedition. The Undersea Specialist will don a drysuit and "capture" (via video camera) footage of critters so seldom-seen for all to watch in vivid HD, in the comfort of the lounge with an informative narrative. The Explorer is also equipped with an ROV (Remotely Operated Vehicle) capable of exploring depths up to 1,000 feet, where no diver can go.
7. Kayaking. With a fleet of 36 sturdy double kayaks aboard, everyone aboard can participate, even novices. We have devised a safe operation that allows you to enjoy the freedom and solitude of kayaking amongst the stunning scenery.
8. Local flavor. We infuse local flavor into many elements of our cuisine and beverage. Whether it's the local fish, the Cape Breton mussels or the way we prepare your entrée with influences from Scotland, France and the maritimes, you will definitely know where you are.
9. "Je ne sais quoi" – that certain something on National Geographic Explorer. It's impossible to articulate, yet impossible to not feel: the spirit and camaraderie between the ship's personnel and the guests. Once aboard, you're family. Perhaps that's why 54% of the guests on National Geographic Explorer have traveled aboard before.
10. Video Chronicle. Your time is valuable, and trying to capture the expedition experience is an immense feat. So, while we certainly encourage and support those who will photograph and film their voyage, we also want you to be able to relax, knowing that a professional will have produced a chronicle of your expedition, ready before you leave the ship.
Explorations: All Destinations 2017-18 MultidestinationBrochure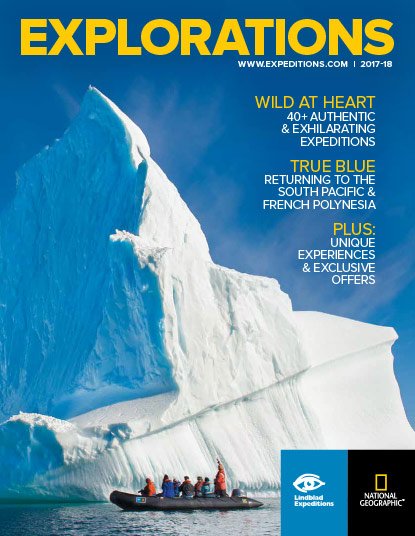 View online or have one mailed to you. It's free!
Brochures & DVDs
Canada Weather
JAN-MAY
JUN-DEC
LOW TEMP
65-70°F
65-70°F
HIGH TEMP
85-90°F
75-82°F
WATER TEMP
85-90°F
85-90°F