Canada
Life Aboard
Amenities, great food, camaraderie, comfort and wellness
Throughout your journey, National Geographic Explorer provides an atmosphere of casual comfort, as well as intellectual stimulation and sociability. After an active session of exploring, it's always rewarding to return to Explorer—to relax, reflect, and rejuvenate. Spacious common areas invite you to read, jot a journal entry or connect with a new friend. A sauna, workout or wellness treatment is always an option. And so is a nap in your serene cabin. We cater to your comfort, while offering the most engaging experiences possible.
Informal ambience, relaxed attitude
There's no need to dress up ever; life aboard Explorer is casual all the way. There's no assigned seating in the dining room—whether you choose the dining room or the bistro bar. In fact, many tables accommodate uneven numbers, making for easy mingling and the fun of sharing breakfast, lunch or dinner with new friends, staff, or guest speakers. And independent travelers can count on a welcome everywhere they turn. We invite you to freely roam the ship, discovering the nooks and crannies; and visit the bridge whenever you'd like to watch the calm business of navigation unfold.
Excellent food
Our chefs use fresh, local ingredients whenever possible, including sustainable catch fish, and other local products. Breakfast and lunch are buffet-style; dinner is served. There are fish or meat choices at every meal, and our chef will happily accommodate vegan or other special diet requests. The ship's hospitable hotel staff maintains an always-open station for coffee, tea, hot chocolate, and soda in the chart room. And the bistro bar provides on-demand cappuccinos and lattes. Afternoon tea and cookies are served daily. And pre-dinner hors d'oeuvres and cocktails are served in the lounge at daily Recap. There are reuseable water bottles in every cabin and chilled, fresh water stations in the hallways to make staying hydrated convenient and refreshing.
The personal ahhhhh factor
You'll find much more information on Explorer in the Our Fleet section, but suffice it to say that your cabin, whether windowed or balconied, will be an inviting place to end your active day. You'll find the bathroom stocked with organic botanical products. And, your bed is cosseted in our signature feather duvet with an organic cotton cover, and cotton sheeting.
Sociable spaces, quiet corners
The lounge is the heart of the expedition community; where we gather for talks and daily Recap, and where the photographers aboard set up their laptops to organize photo files. The bow is another place where guests mingle with staff when the ship is underway to scan the sea for seals, dolphins, and porpoises. And the chart room, adjacent to the bow, is the place to duck into for a beverage and convivial warmth. Explorer also offers any number of places to pass time enjoyably alone, or with a small group—from the quiet of the windowed library with its lode of books, to the adjacent observation lounge with its walls of glass, binoculars at the ready, plus cards and games. On warm days, Explorer's expansive decks, furnished with tables, chairs, and chaise longues, collect readers, water-colorists, journalers, and more.
Rise, shine and connect with wildness
Greet the morning with a pre-breakfast stretching session led by your wellness specialist in the observation lounge. Or, sleep in and take advantage of Explorer's fitness center with its million-dollar views, plus exercise bikes, treadmills, stretch bands, and yoga mats at your convenience. And, count on walking the streets of small fishing villages and island outposts while exploring the Canadian Maritimes.
On-board spa treatments

Massage therapy and body treatments, plus face, hand, foot treatments, inspired by the region are available by appointment in the wellness center. Choose to have a treatment instead of an activity, or to end an active day of exploring. Or, drop in anytime to use the sauna to relax and rejuvenate.
Explorations: All Destinations 2017-18 MultidestinationBrochure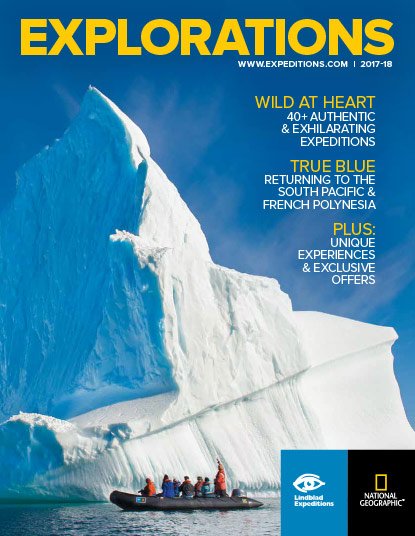 View online or have one mailed to you. It's free!
Brochures & DVDs
Canadian Geo In The News
Canada Weather
JAN-MAY
JUN-DEC
LOW TEMP
65-70°F
65-70°F
HIGH TEMP
85-90°F
75-82°F
WATER TEMP
85-90°F
85-90°F