Canada
What It's Like/What You'll Do
How you'll spend your time and reward your curiosity
Embark on a new expedition to The Canadian Maritimes. Explore the wild landscapes, northern settlements, and island outposts as we make a circumnavigation of Newfoundland, Iles de la Madeleine, and Cape Breton Island while enjoying exclusive access.
Actively explore every day

Zodiac cruise, kayak, hike, and walk daily: there's nothing passive about our expedition style. Our captains' dexterity and the logistical savvy of our expedition leaders allow us to get you out daily, often twice a day on forays. Head off in a Zodiac to explore waterline caves. Kayak tranquil waters. Take a long hike or a short walk along an empty beach. Or linger with your Lindblad-National Geographic certified photo instructor to shoot seabird portraits or scenic panoramas.
Revel in the historic, cultural sites
Snap photos of the region's iconic lighthouses. Visit an island under French control, and explore the site of an 11th-century Viking village that is now a UNESCO World Heritage site. We'll also walk the streets of small, brightly painted fishing villages and see the remnants of WWII harbor defenses. From the Vikings to early European explorers to the famous inventor Alexander Graham Bell, we'll uncover the region's engrossing history.
Connect with the wild world
On Zodiac cruises, nature hikes, and by kayak, you'll experience the wild and unique environment of the Canadian Maritimes. Explore Gros Morne National Park, a UNESCO World Heritage site known for its breathtaking beauty and rare geological features. It is one of the few places where the surface rock is similar to the rock at the Earth's core, and it is today the subject of study by NASA due to its similarity to the surface of Mars. Walk the beaches and discover the carved dunes and sandstone cliffs of tiny islands.
Enjoy the daily ritual
Each evening at cocktail hour the entire expedition community gathers in the lounge for a ritual we call Recap. As you enjoy cocktails and hors d'oeuvres, various naturalists give talks, the undersea specialist may show video, and your expedition leader will outline the following day's schedule. Guests often tell us in comment cards that daily Recaps are among their fondest memories from their expedition.
Savor time aboard ship
Wildlife, history, and guest speaker talks will be offered at various times throughout the voyage, as well. And when the ship is underway, it's a wonderful time to stand on the bow with a naturalist, National Geographic photographer, or photo instructor. And visit the bridge, where you are always welcome to watch the calm, serious business of navigation unfold.
Explorations: All Destinations 2017-18 MultidestinationBrochure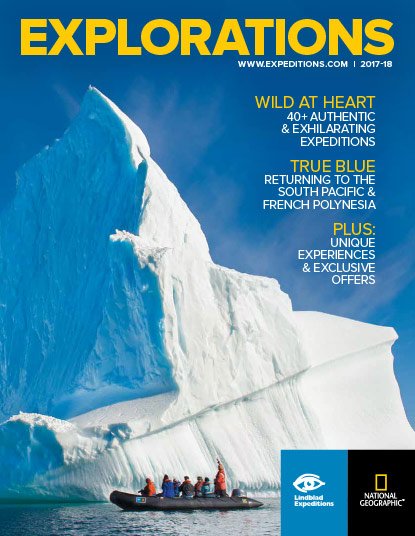 View online or have one mailed to you. It's free!
Brochures & DVDs
Canadian Geographic
See what well-known publications say about exploring with us
Read the article
Canada Weather
JAN-MAY
JUN-DEC
LOW TEMP
65-70°F
65-70°F
HIGH TEMP
85-90°F
75-82°F
WATER TEMP
85-90°F
85-90°F