Caribbean
Sea Cloud
The historic Marjorie Merriweather Post sailing yacht
Sea Cloud was built in 1931 by Wall Street businessman E. F. Hutton for his wife, Marjorie Merriweather Post. There is no ship afloat that can compare with her grace, fine service, or the thrilling sailing experience she provides. She is hand-sailed by a spirited crew of 18 who go high into the riggings to set the sails. She carries 30 sails measuring a total of 32,000 square feet. The Caribbean's reliable trade winds are perfect for sailing.
The style of life aboard
She's a ship of tremendous luxury—it's rumored that Post never asked the price of a single item she bought while designing Sea Cloud's interior. The original owners' cabins are outfitted with fireplaces and Italian marble baths. Sea Cloud's open deck spaces are expansive and full of inviting places to relax and watch the crew at the busy task of hand-sailing. Sea Cloud's dining room and lounge are suitable for black-tie affairs, but thanks to our expedition style, you can enjoy it all in more casual dress and a matching nonchalance.
Caribbean 2017-18 Brochure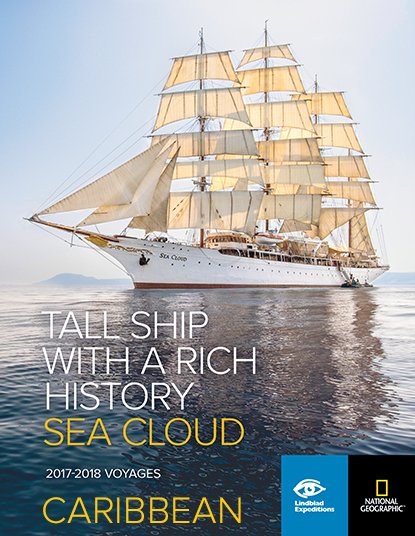 View online or have one mailed to you. It's free!
Brochures & DVDs
Caribbean Itineraries Aboard Sea Cloud