Caribbean
Top 10 Reasons
See why traveling to the Caribbean with us should be on your must-do list
1. The sailing yacht Sea Cloud. The grandest privately-owned tall ship, she has an extraordinary history. Elegantly outfitted, she is extremely gracious, and our trademark casual expedition style marries informality to her elegance.
2. The romance of sailing. Sea Cloud offers an experience not otherwise available today—tall ship sailing. A crew of 18 raises and lowers Sea Cloud's 30 sails by hand, the old-fashioned way. It is a thrilling sight, and a powerful feeling.
3. Synergy of ship and destination. The reliable trade winds of the Caribbean have made it vital to historic trade since the islands were discovered. Experience the idyllic islands the way the early traders did, under sail. And discover the islands' human and natural history with our expert team.
4. Carefully crafted itineraries. Explore cultures, history, and contemporary island life throughout your expedition. And your visits are at the best times, without crowds.
5. See hidden corners of the Caribbean. Snorkel at pristine coral reefs, swim in tropical lagoons, and explore secluded cays and beaches.
6. Experience vivid cultures. Visit the Caribbean's untrammeled islands, including verdant Dominica, known as the "nature" island. Go on historian-led walks in colonial towns infused with an intriguing mix of cultures.
7. Seasoned expedition leader. Tom O'Brien is expedition leader on most Sea Cloud Caribbean departures. He began working on Sea Cloud in the 1980s, and has 30+ years experience with Lindblad Expeditions, coupled with a passion for the "old world" Caribbean we visit.
8. The most knowledgeable and engaging staff. Our seasoned naturalists and historians bring you the essence of the Lesser Antilles, revealing the facets and sharing all aspects, including the "liming" the Caribbean is famous for.
9. Exceptional quality of life aboard. Sea Cloud celebrates sun and breeze, comfort and hospitality. Famously elegant, she offers you the delightful opportunity to enjoy black-tie amenities in shorts and deck shoes.
10. Capture your experience. A Lindblad-National Geographic certified photo instructor is aboard every departure, to help you with your camera, basics of composition and to take your best photos ever.
Caribbean 2017-18 Brochure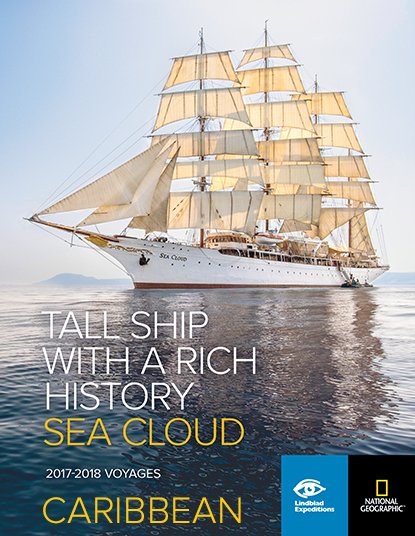 View online or have one mailed to you. It's free!
Brochures & DVDs
Caribbean Weather
WINTER
LOW TEMP
70°F
HIGH TEMP
85°F
WATER TEMP
N/A