Caribbean
Cultural Experiences
Discover a rich web of history & diversity
Centuries ago the islands we explore were used as pawns by the most powerful seafaring nations in the world. Today's comfortable, welcoming Caribbean personality is superimposed on a diverse cultural, even architectural, history. French, Dutch, English, and Spaniards traded these islands and left lasting imprints. Your expedition team will help you navigate these diverse cultural strands and reveal the historic within the contemporary.
Explore a jungle-choked fort
The islands are filled with old forts, cannons, and stories of pirates and rum, making them a natural destination for the historic square-rigger Sea Cloud. We'll have many opportunities to glimpse a storied past through the window of time. On Dominica, for example, we'll get a romantic view of the history of warring nations, pirates, and privateers, when we hike to an old fort where jungle vines wrap around old cannons and wind through dungeons.
Pass an afternoon "liming," a Caribbean tradition
Liming is the Caribbean word for hanging out, chilling, or relaxing with friends at a bar, restaurant, or café. And this itinerary includes ample time for true Caribbean "liming"—whether it is on the deck of Sea Cloud, as you measure the passing time by a distant island's growth on the horizon; along the harbor waterfront; or under the shade of a beach palm.
Caribbean 2017-18 Brochure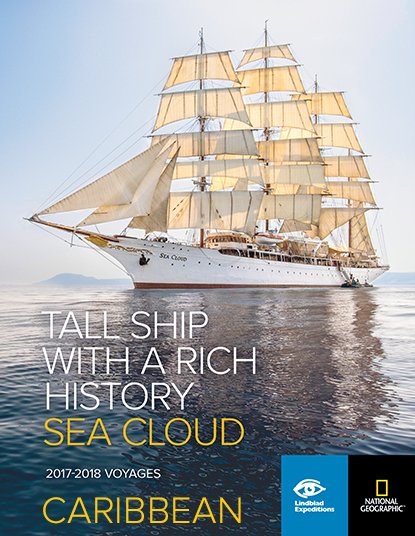 View online or have one mailed to you. It's free!
Brochures & DVDs
Caribbean Weather
WINTER
LOW TEMP
70°F
HIGH TEMP
85°F
WATER TEMP
N/A