Caribbean
What It's Like/What You'll Do
How you'll spend your time & reward your curiosity
Return to the romantic era of tall ships on an expedition among the idyllic islands of the Caribbean—a place perfectly suited to the aesthetic beauty of sailing aboard an authentic square-rigger. The ship will be a movable feast and your base for seven days of exploring some of the Caribbean's lesser-known sites. This historic sailing yacht, a souvenir of a golden age, is full of the glamour of the sophisticated '30's. From the moment you step aboard you'll feel the soul of the ship—as surely as you'll feel the trade winds filling her sails.
The harmony of wind and sail
Our itinerary is crafted to take advantage of the reliable, 10- to 15-knot trade winds of the Caribbean. The open and inviting deck areas are natural gathering places, perfect for lolling in shorts, T-shirts, or bathing suits, as the spirit moves you. Relax in the cushioned section Marjorie Merriweather Post nicknamed "The Blue Lagoon." Read in a deck chair. And when the square sails are run out from the massive yardarms, you'll experience something few do in the 21stcentury—the mighty allure of tall ship sailing
Discover a rich cultural tapestry and meet friendly locals
Centuries ago the islands you'll visit on our itinerary were traded in the battles of the great superpowers. An integral part of what makes them so interesting is how each has settled in with some French, Spanish, and Creole mix of its own. (On islands that still belong to France, you'll find everyone speaking French, and shops accepting only the Euro.) Sea Cloud ventures where large cruise ships cannot—and she always receives an admiring welcome from local residents.
Swim, snorkel, & explore the islands' wildlife
With the water at 80°F, swimming is idyllic. And the Caribbean's world-famous colorful reefs invite us to snorkel, too. You'll swim and snorkel every day you choose, and snorkeling gear is provided aboard the ship—no need to pack your own. And you can seek natural color on land too—hiking the "nature" island of Dominica, searching for endemic parrots in the highlands.
Enjoy the daily ritual
Each evening the entire expedition community gathers on the Lido Deck, the center of our expedition community, for an expedition ritual we call Recap. As you enjoy cocktails and hors d'oeuvres, your naturalist or historian will give talks, and your expedition leader will outline the following day's schedule. Guests often tell us in comment cards that Recap remains one of the fondest memories of their expedition experience.
Overheard
The trip was priceless! The Sea Cloud is priceless!
Caribbean 2017-18 Brochure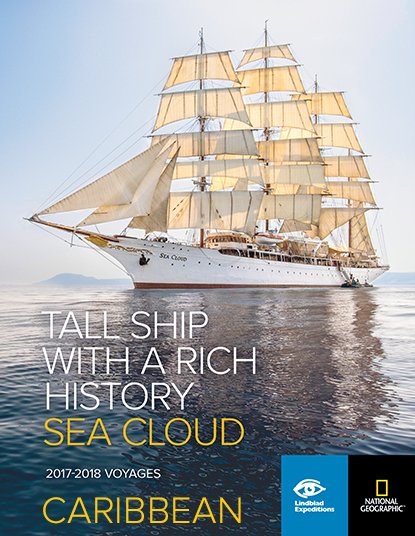 View online or have one mailed to you. It's free!
Brochures & DVDs
Caribbean Weather
WINTER
LOW TEMP
70°F
HIGH TEMP
85°F
WATER TEMP
N/A