Costa Rica & Panama
National Geographic Quest
Intimately scaled expedition ship, designed to connect you to nature
When completed National Geographic Quest will be the perfect ship to explore the tropical coasts of Costa Rica, Panama,To build her we turned to Nichols Brothers Boat Builders, the company that built the beloved National Geographic Sea Bird and National Geographic Sea Lion—vessels that, with our regular maintenance schedule and recent refurbishment, have been operating successfully for decades. Nichols Brothers has been building boats on beautiful Whidbey Island since 1964 so we entrusted them with the Quest, and we are proud that it will be the first expedition ship of its kind to be made entirely in the U.S.
In addition, Quest cruise ship achieves some other notable firsts. She will be the first ship in our fleet voyaging in these geographies with step-out balconies (available in 22 of the 50 spacious cabins), plus 6 sets of connecting cabins for families and groups; and a designated mudroom for expedition gear.
Equipped for comfort and active exploration
Comfortably accommodating 100 guests, Quest is larger than the 62-guest Sea Bird and Sea Lion, but has the same shallow draft depth, allowing us to navigate the same inner reaches and provide the same intimate experiences of the charismatic regions we explore. Her twin expedition craft landing platforms allow us to rapidly get on and off the ship to take advantage of wildlife sightings and to ensure we maximize our time off the ship exploring. Designed with decades of expedition experience in the region, the purpose-built vessel also features open decks, generous windows, and specialty tools for exploration—the ideal platform for exploring the tropical waterways of Central America.
Newly designed cabins
National Geographic Quest comfortably accommodates 100 guests in 50 outside-facing cabins. Cabins are efficiently designed, with sizes range from the 136-square-foot category 1 to the 185-square-foot category 5 suite. Twenty-two of the 50 cabins will feature small balconies with floor-to-ceiling sliding doors that bring in the spectacular views and ample natural light. Twelve cabins will connect via internal doorway access allowing families to combine their rooms. Plus, all category 5 suite cabins can accommodate a third person on a convertible sofa bed.
Comfort & convenience in every room
Every cabin has two portholes, a large window or balcony, Wi-Fi access, and temperature controls. Bathrooms are modern and stocked with botanically inspired hair products, soap, and shower gel, plus a hairdryer. Every room has outlets and USB outlets for charging your camera gear or electronics, and space for luggage storage.
Costa Rica & Panama 2017 Brochure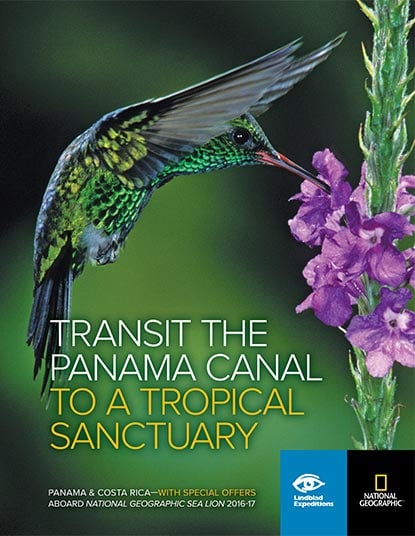 View online or have one mailed to you. It's free!
Brochures & DVDs
Costa Rica & Panama Itineraries Aboard Nat Geo Quest