Costa Rica & Panama
Top 10 Reasons
See why traveling to Costa Rica with us should be on your must-do list
1. Experience matters. Our 20+ years exploring Costa Rica & Panama allow us to give you an unmatched experience of this fascinating geography. We also own and operate the National Geographic Sea Lion, giving us oversight that many other operators in the region simply don't have.
2. More flexibility, choices and activities. Guests are never "herded." There is always a wealth of daily activity choices for you. And our generous staff-to-guest ratio assures you a diversity of engaging personalities and expertise on daily adventures. The small, intimate scale of the National Geographic Sea Lion means we can easily reach places inaccessible to larger vessels. And that same accessibility and freedom extends to your life aboard.
3. Closer to nature on a small ship. Costa Rica offers beauty, enormous biodiversity, drawn from both Americas, and fascinating natural history; is committed to conservation; and is one of the friendliest, most welcoming countries on earth. Our ship-based voyage enables you to experience a greater variety of natural wonders than any land-based excursion, as we voyage on the "wild side," experiencing environments from coastal rain forest and magnificent, pristine beaches like the legendary Manuel Antonio, to the cloud forest of Monteverde, the volcano of Arenal, and the rain forest-lined canals of Tortuguero.
4. One naturalist for every 12 guests. Every expedition sails with a veteran expedition leader and a hand-picked team of naturalists. Most of our expedition leaders and all of our naturalists are Costa Rican and Panamanian, and dedicated to making each day of your expedition uniquely yours, and deeply rewarding. Together with National Geographic, there is no better team anywhere.
5. Unique Panama Canal experience. Our transit elapses over 48 hours, giving you an in-depth experience of this historically significant and remarkable achievement of human engineering. You will have the opportunity to gather on National Geographic Sea Lion's generous bow for a unobstructed views—as a staff member explains the Canal's mechanisms, through which 26 million gallons of manipulated water rise magically beneath the ship, lifting us to 85 feet above sea level.
6. Seamless transition to a land-based exploration. Add an inland exploration of Costa Rica before or after your coastal expedition. Join our top tier expedition team in exploring the rarified cloud forest of Monteverde, the Caribbean coastal town of Tortuguero carved from the jungle, and smoldering Arenal volcano.
7. Tools for exploration. Our onboard fleet of 5 expedition landing craft, and 8-single and 12-double kayaks allow us to explore wild, remote locations that have no tourist infrastructure. Video microscopes, high-definition screens, hydrophones, and other tools give us the opportunity for an unmatched, in-depth understanding and authentic exploration.
8. Wellness inspired by nature. We have always believed that exploring the wild, pristine corners of the world can be a powerful tonic for personal reflection and rejuvenation. To complement nature's tonic, we offer massage therapy and body treatments, plus longer hikes, kayaking adventures and other life-enhancing and balancing options.
9. A Lindblad-National Geographic certified photo instructor on every departure. A specially trained naturalist, your photo instructor will provide assistance with your camera and instruction in elements of composition—to help you take your best photos ever. Certain departures are dedicated Photo Expeditions, with National Geographic photographers aboard, for an in-depth photo experience.
10. Exclusive Video Chronicle of your expedition. A Video Chronicler aboard every voyage captures all the moments of your unique expedition. Professionally shot in HD and edited during the voyage, it's available for purchase at disembarkation.
Costa Rica & Panama Itineraries
Costa Rica & Panama 2017 Brochure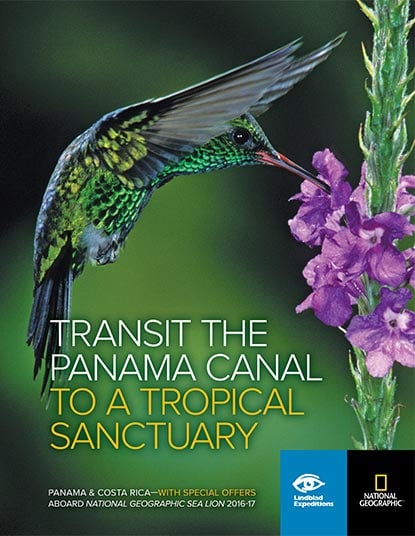 View online or have one mailed to you. It's free!
Brochures & DVDs
Costa Rica & Panama Weather
NOV-APR
LOW TEMP
65°F
HIGH TEMP
90°F
WATER TEMP
75-82°F