Costa Rica & Panama
Costa Rica & Panama Expedition Team
Share the adventure with dedicated experts
Over the 40+ years of our expedition history, the quality of our veteran staff, and their companionship is the reason the Lindblad name is known and respected for top-quality expeditions. Together with National Geographic, there is no better team anywhere.
The team composition
Every expedition sails with a veteran expedition leader and a hand-picked team of naturalists. Each naturalist is deeply knowledgeable about Costa Rica and Panama and is dedicated to sharing their passion for the region with you. Other key members of the team include: a Lindblad Expeditions-National Geographic certified photo instructor, and sometimes a National Geographic expert. Together our Panama and Costa Rica travel guides will provide you with a greater understanding and appreciation of this exceptional place. Since some Costa Rica and Panama departures are Photo Expeditions, we encourage you to read about this unique opportunity.
More specialties and personalities
You are always part of a small group, with a ratio of one naturalist to every 12 guests. Our excellent staff-to-guest ratio ensures a healthy diversity of naturalist specialties—marine biology, botany, cetaceans, primates, ornithology, and more—and personalities. You are never directed into groups. You're free to gravitate to the naturalists whose interests mirror your own. Our Costa Rica and Panama travel guides are dedicated to making each day of your expedition uniquely yours, and deeply rewarding.
Featured Costa Rica & Panama Team Members
Costa Rica & Panama Itineraries
Costa Rica & Panama 2017 Brochure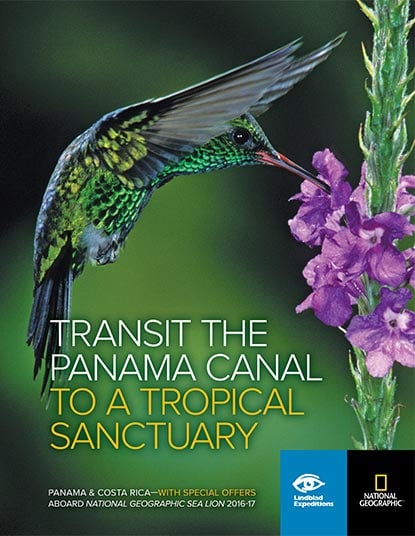 View online or have one mailed to you. It's free!
Brochures & DVDs
Costa Rica & Panama Weather
NOV-APR
LOW TEMP
65°F
HIGH TEMP
90°F
WATER TEMP
75-82°F
Guest comments
"I was impressed with the knowledge of the expedition staff. They all made the hikes more informative and fun and this is the one aspect that differentiates you from other tours."
-David S.
READ MORE