Costa Rica & Panama
Costa Rica & Panama & Families
Adventures to share through the Canal and into the rain forest
Family travel to Costa Rica & Panama is the perfect way to experience the wild world and tick off some life-list musts as a family unit or multi-generational clan. After all, you'll always remember the shared experience of sailing through the legendary Panama Canal. And there's something about being in the pure wildness of the rain forests of Costa Rica and the small idyllic islands of the Gulf of Panama that brings out the vibrant, youthful side of all travelers no matter their age.

Daily activities and adventures to share
Our Costa Rica & Panama expeditions offer activities daily that will satisfy a diverse range of interests and fitness levels for various family members, from expedition landing craft cruises up jungle rivers to horseback-riding along the beach. Choose to take a long hike to explore a waterfall deep in the rain forest, take a leisurely interpretive natural history walk, or shoot with your photo instructor. You can opt to do activities as a group, or let everyone pursue their own interests. And getting together for breakfast and dinner to plan your day or recount experiences and swap stories is one of the chief joys of shared family travel to Panama and Costa Rica.
The 62-guest National Geographic Sea Lion is ideal for family travel
The ship is not merely the space you inhabit, it's an essential element in your shared adventure. Even if you go separate ways during the day, pursuing diverse activities, you can count on running into each other or gravitating together easily and naturally, with no intervening distance. Kids can safely exercise their freedom— kids tables often form organically in the dining room—without ever getting too far away, and there's always a friendly naturalist or crewmember nearby.
Be part of the expedition community
Each day the entire expedition community gathers in the lounge for a tradition we call Recap, in which various members of the expedition team recount the day's activities, make presentations, and the expedition leader discusses the next day's plan. Inclusive, convivial, with cocktails and hors d'oeuvres a part of it, Recap is yet another opportunity for sharing and shared memory-making. Guests have told us over the years, that being part of the expedition community helped them see themselves as a family more clearly, and re-affirmed their bonds in vitalizing new ways.
Card-worthy family photos
Since every Costa Rica & Panama expedition sails with a Lindblad-National Geographic certified photo instructor aboard, you're likely to go home with some wonderful family candids or portraits to share with friends.
Kids under 18 get $500 off
We believe that sharing an expedition with your kids or grandkids can be a life-altering experience. Since we are committed to encouraging families to travel, we invite you to take $500 off the cost of your expedition for each child under the age of 18 traveling.
Costa Rica & Panama Itineraries
Costa Rica & Panama 2017 Brochure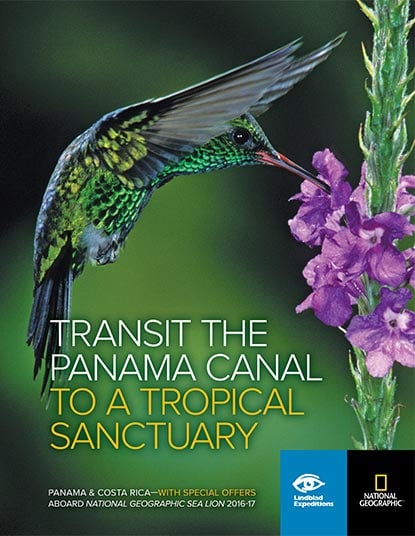 View online or have one mailed to you. It's free!
Brochures & DVDs
Costa Rica & Panama Weather
NOV-APR
LOW TEMP
65°F
HIGH TEMP
90°F
WATER TEMP
75-82°F