Costa Rica & Panama
Life Aboard
Amenities, great food, camaraderie, comfort & wellness
Escape winter, or go to relish one of the world's most exciting natural environments. The onboard atmosphere is comfortable and casual, akin to that of a large, private yacht. And our wellness philosophy is designed to relax and revitalize mind, body, and spirit.
Informal ambience, relaxed attitude
Ship life is decidedly relaxed and informal. There is no need to dress up ever. Meals are served in the dining room at a single seating with no assigned tables, making it easy to mingle among new friends, or join any of our naturalists or experts. If you're traveling alone, you will be amazed at the welcoming camaraderie of our inclusive expedition community. We invite you to roam the ship—even the bridge if you're interested in navigation and would like to talk to the captain. Our wellness specialist offers daily stretch classes, as well as a selection of spa treatments.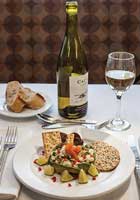 Excellent food
"Pura vida" is Costa Rica's national catch phrase. Fresh, regional ingredients, including locally grown produce, sustainably caught fish, and other regional products are an integral part of your experience. Our chefs add Central American flavors to a menu that also includes traditional favorites, opening another window onto the region we're exploring. The extensive selection at breakfast always includes an array of fresh fruits and just-baked breads. Lunch is served family style, and our full-service dinner provides a choice of meat, fish, or vegetarian options. And special dietary requests are never a problem.
The personal ahhhhhh factor
The small, intimate scale of our ship means we can easily reach places inaccessible to larger vessels. And that same accessibility and freedom extends to your life aboard. Each cabin features personal climate controls and faces outside—ensuring your connection to the outdoors. Fresh linens and comfortable beds await you at the end of each day's explorations. For more complete details on your accommodations, please read about National Geographic Sea Lion in the Our Fleet section.
Sociable spaces, quiet corners
The lounge, with its full-service bar and plasma screens, is the hub of community activities like Recap, presentations, films, and other gatherings. But the heart of our expedition ship is the bow, which accommodates the whole community and a compliment of naturalists together. It's a great place to share sightings and hang out while watching the world glide past. The partially canopied sundeck extends a welcome with tables and chairs. Pick out a book from the library and enjoy some reading time in the lounge.
Rise, shine, and connect with wildness
Whether it's during stretch classes, on walks or kayak forays, or in quiet meditations on the trail or on deck, you'll experience something we call the "tonic of wildness." It's what we seek in the planet's unspoiled places; and it's the reward we earn for discovering them.
On board spa treatments
For your convenience, a wellness specialist works extended hours during the voyage and offers a range of massage therapies and body treatments—particularly restorative after an active day of exploring. There is an outdoor stretching area where you may enjoy a daily stretch class or a yoga-inspired workout.
Costa Rica & Panama Itineraries
Costa Rica & Panama 2017 Brochure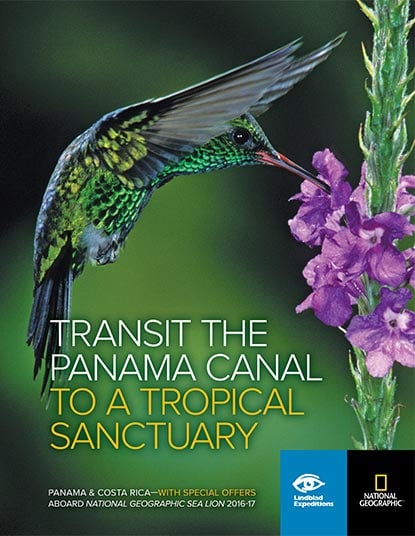 View online or have one mailed to you. It's free!
Brochures & DVDs
Costa Rica & Panama Weather
NOV-APR
LOW TEMP
65°F
HIGH TEMP
90°F
WATER TEMP
75-82°F