Costa Rica & Panama
What It's Like/What You'll Do
A taste of how you'll spend your time & satisfy your curiosity
Board National Geographic Sea Lion for a weeklong immersion in wildness, experiencing biodiversity at its best—in this remarkable land bridge between North and South America. The ship will be your base camp—a movable feast with a welcoming onboard atmosphere that fosters an incredible esprit de corps,as we share each day's freshness and wonder.
Choice of daily activities
Experience Panama and Costa Rica attractions as engaged, active explorers. Our expedition ship is equipped with cool tools for exploration: a fleet of expedition landing craft and kayaks for up close, personal adventures; and complete snorkeling gear, so there's no need to pack and tote your own. We'll use our expedition landing craft to cruise shorelines, follow beckoning rivers and make landfall on gorgeous beaches. Kayaks offer personal, eye-level encounters with this lush environment. Snorkel through brilliant schools of fish. Swim in a pool at the base of a dramatic waterfall. Horseback ride along a deserted beach. Join our wellness specialist for morning stretches aboard, or a leg-stretching shoreline hike. Or, linger with our Lindblad Expeditions-National Geographic certified photo instructor along a trail, taking advantage of the jungle-filtered light. There are no rules or compulsory activities—just a wealth of daily Costa Rica and Panama attractions for you. And adventures to be had with a variety of staff members.
Extraordinary transit of the Panama Canal
A transit of the Panama Canal is a bucket list must-do for many. It's historically significant and a remarkable achievement of human engineering. But few have the opportunity to experience the Canal the way we do on this expedition. Our transit elapses over 48 hours, enabling you to see the Canal and learn about its mechanisms by day, and sometimes see it dramatically lit at night. Within the Canal Zone, we have special permission to overnight at Barro Colorado Island in Gatún Lake, serenaded by the thrilling sounds of the rain forest. Barro Colorado Island has been the site of the Smithsonian Tropical Research Institute since 1923, and is––where we'll meet Smithsonian scientists and enjoy a guided forest walk. When we resume our Canal transit, gathering on Sea Lion's generous bow, our staff will point out and explain how massive locks move a mountain of water—26 million gallons of manipulated water rise magically beneath the ship, lifting us to 85 feet above sea level.
Experience the diversity of the region in one expedition
Our ship-based voyage enables you to experience a greater variety of natural wonders, more than any land-based excursion. We voyage on the "wild side," through a coastal rain forest and a staggering level of biodiversity drawn from both Americas. On our itineraries the range is from coastal rain forests and magnificent, pristine beaches on the Pacific coast of the legendary Manuel Antonio National Park, to the cloud forest of Monteverde, the volcano of Arenal, and the desertscapes of Sarapiquí.
Enjoy the daily ritual

Each evening staff and guests meet for cocktail hour in a tradition called Recap. Relax with a tropical drink and enjoy hors d'oeuvres, while members of the expedition team give engaging, informative talks about the events of the day, and preview tomorrow's plans and activities It's a perfect opportunity to ask questions and share impressions. Recap will inevitably be a favorite memory of your journey.
Savor time aboard ship
Sea Lion is designed to be comfortable and accommodating, always serving a menu of fresh, local and sustainable cuisine. When the ship is underway, feel free to join our naturalists on deck as they search for wildlife. Or, head to the lounge to identify your underwater photos with our marine biologist. If you're curious about navigation, visit the bridge to meet the captain and officers. And, if you've been joining the longer hikes, consider a relaxing massage with our wellness specialist or a restorative nap in the calm of your cabin.
Overheard
Great team! We enjoyed them all, and we learned so much from the presentations and nature walks.
Costa Rica & Panama Itineraries
Costa Rica & Panama 2017 Brochure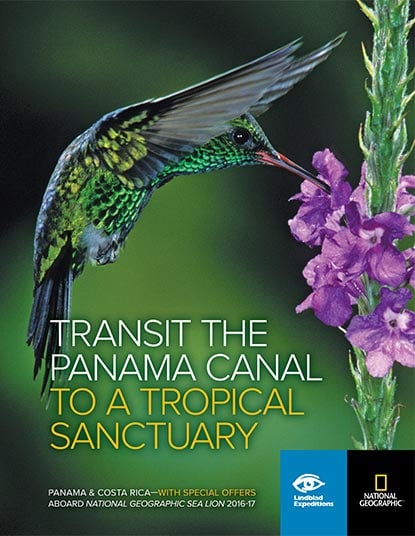 View online or have one mailed to you. It's free!
Brochures & DVDs
Costa Rica & Panama Weather
NOV-APR
LOW TEMP
65°F
HIGH TEMP
90°F
WATER TEMP
75-82°F