Costa Rica & Panama
Costa Rica & Panama Wildlife
Abundant, diverse, exhilarating
Huge varieties of animals live in this rich habitat. Iridescent hummingbirds, toucans, and macaws are among the 300 species of birds found here. On walks with naturalists, you'll see troops of omnivorous, white-faced capuchin monkeys and even spider monkeys, the largest in the New World. And you'll hear the howler monkeys long before you see them amid the swaying treetops. Three-toed sloths always hold our fascination as do intriguing, long-nosed bats. In keeping with our flexible approach, we might change a plan, or veer off course, if leaping dolphins are spotted—to give you the thrill of watching the wildlife of Costa Rica and Panama up close.
Sightings at the best times
The advantages of traveling with your own personal expedition team is their habitat knowledge. They know when the wildlife in Costa Rica and Panama are most active, and they schedule accordingly. As a result, there may be some early morning expedition landing craft cruises or walks in the forest. You will be amply rewarded for your early rising with freshly roasted Costa Rican coffee. Spending time among blue-footed boobies, noisy parrots, and delicate butterflies is always entertaining, even edifying.
Overheard
This is best trip I have ever taken (I travel 3-4 times a year).
Costa Rica & Panama Itineraries
Costa Rica & Panama 2017 Brochure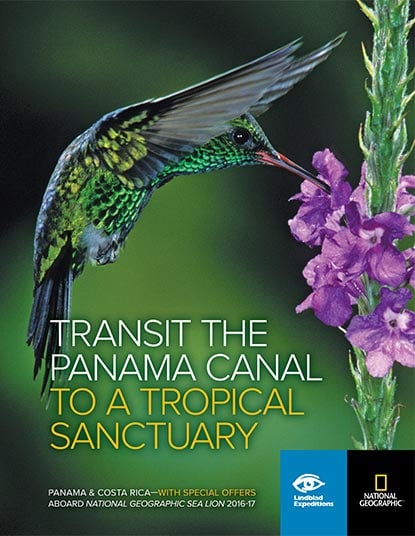 View online or have one mailed to you. It's free!
Brochures & DVDs
Costa Rica & Panama Weather
NOV-APR
LOW TEMP
65°F
HIGH TEMP
90°F
WATER TEMP
75-82°F