Pacific Northwest
Top 10 Reasons
See why traveling to the Pacific Northwest with us should be on your must-do list
1. Experience the Pacific Northwest in-depth. Our two+ decades of experience enable us to design an exceptionally rich Pacific Northwest getaway. We explore Lewis & Clark history; discover diverse, lush landscapes; and taste the region's culinary treasures.
2. Explore aboard nimble expedition ships perfect for river navigation. Carrying just 62 guests and with a shallow draft, National Geographic Sea Bird & Sea Lion take you almost 500 miles inland up the Columbia and Snake Rivers. The deck of our ship is the perfect platform—for viewing dramatic landscapes and landmarks, including the Columbia River Gorge, Multnomah Falls, Beacon Rock and Crown Point; taking photographs; and sharing the wonder with like-minded others.
3. More learning, personal attention and activity choices. We travel with an expedition leader, naturalist/geologist, and historian to illuminate our travels through the largest basalt flow, floods and mudslides in the history of the world. We also engage local experts to expand on some of the themes introduced by our staff: the mountain crossing by the Corps of Discovery, the history of river navigation, the cataclysmic origins of the Columbia River Gorge. You'll have the opportunity to walk, kayak and explore in expedition landing craft and other craft.
4. Experience Native American cultures in-depth. We travel through the land of the Nez Perce, once led by the famous Chief Joseph. At the Nez Perce Center you'll learn about the rich culture of the tribe, and how they aided the Corps of Discovery on their journey.
5. Unique focus on regional food. Outstanding, local cuisine adds an extra level of immersion to your experience. Our chef provisions the ship with food harvested along the rivers; some is picked up along the way so it's as fresh as can be. We choose local food providers that are committed to organic, biodynamic and sustainable farming methods. Local wines are selected to represent the various growing areas and grape varieties that embody the region's best.
6. Visit a family farm, vineyard and taste craft brews. Enjoy striking views of Mt. Hood and local fruit as you visit a family farm in the Hood River Valley. You'll also visit a local vineyard, and enjoy award-winning wines and local craft brews on board.
7. A Lindblad-National Geographic certified photo instructor on every departure. One of the naturalists aboard this expedition is specially trained to provide assistance with many camera models, plus instruction and tips that will help you take your best shots ever.
8. Experience the locks. Locking-in is one of the most fascinating aspects of this river journey. We'll travel through a total of eight different locks that lift you some 700 feet in all—nearly ten times what transiting the Panama Canal entails. Conditions permitting, we also offer a unique view of the locks— from our expedition landing craft.
9. Wellness Program aboard. We're the only expedition company on the rivers with a wellness specialist onboard, offering morning stretch classes on the Sun Deck, as well as a range of fee-for-service spa treatments.
10. Exclusive Video Chronicle of your expedition. Your Chronicle captures the expedition moments you'll want to remember. Professionally shot in HD and edited during the voyage, it's available for purchase at disembarkation.
Pacific Northwest Itineraries
Columbia & Snake Rivers 2017 Brochure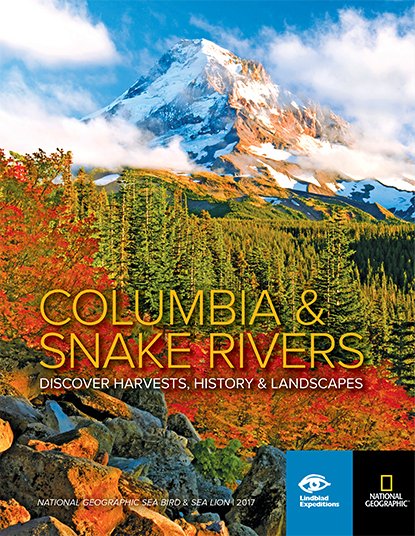 View online or have one mailed to you. It's free!
Brochures & DVDs
Pacific Northwest Weather
JAN-MAY
JUN-DEC
LOW TEMP
31-41°F
33-47°F
HIGH TEMP
44-66°F
45-77°F
WATER TEMP
45-54°F
50-58°F