Pacific Northwest
Cultural Experiences
History is layered in the banks of these rivers
Columbia & Snake Rivers: On the trail of Lewis & Clark
The story of the Corps of Discovery and the expedition that changed America's sense of itself is integral to this expedition. It begins as we navigate the Columbia to the mouth of the river at Astoria, benefiting from the knowledge and insight of our voyage historian. Discover Pacific Northwest attractions like Fort Clatsop, an authentic, full-scale recreation of the site where Lewis and Clark hunkered down for the wet winter of 1805-1806. We will also learn about their relationship with the Nez Perce people.


Throughout the Columbia & Snake River journey, you'll experience the region's natural history—a story of a restless land of uplifted mountain ranges and catastrophic volcanoes. Pass through the aftermath of eruptions that blanketed the landscape in ash 20-40 million years ago, to the landslides 500 years ago that were so powerful they altered the river's course by a full mile. Your expedition's geologist will share the tale of natural history layered in the river's banks, and you'll get even closer on riverside strolls and a hike to a waterfall.

Autumn Exploration of British Columbia & the San Juan Islands: Village charm & First Nation history
Fall under the spell of Pacific Northwest culture in visits to small towns and art galleries and First Nations events. Enjoy a guided tour of the Whale Museum on San Juan Island, with its fascinating collection of artifacts, artwork, and whale skeletons. Stop in the quaint galleries of Victoria and tour its lovely gardens, bike along the waterfront, sample the local wine or take a guided culinary tour—options abound for exploring.

Be welcomed to First Nation events after sailing into Alert Bay and making your way to the U'Mista Cultural Centre, with its stunning potlatch masks created by the Kwakwaka'wakw peoples. Then enter their traditional Big House, for a moving, storytelling performance from the Tsasala Cultural Group.
Pacific Northwest Itineraries
Columbia & Snake Rivers 2017 Brochure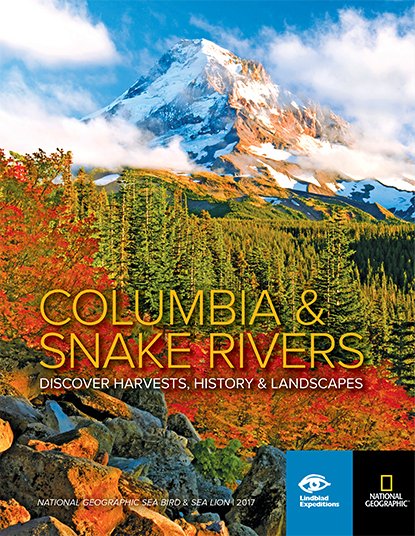 View online or have one mailed to you. It's free!
Brochures & DVDs
Pacific Northwest Weather
JAN-MAY
JUN-DEC
LOW TEMP
31-41°F
33-47°F
HIGH TEMP
44-66°F
45-77°F
WATER TEMP
45-54°F
50-58°F