Pacific Northwest
Pack Your Camera
Capture the Columbia & Snake Rivers, and take your best photos ever

"You don't have to travel to the ends of the earth for great photo opportunities. A voyage on the Columbia and Snake Rivers travels through a land of contrasts – from the Pacific Ocean at the mouth of the river, past volcanic peaks, canyons, and waterfalls of the Cascades and Columbia River Gorge, to the dry, rolling grasslands of the plateau country in the rain shadow. All this while navigating through the locks and dams, learning about the Lewis and Clarke Expedition, while drinking great wine and eating delicious food. "
Ralph Lee Hopkins, Director of Expedition Photography
Top 5 Reasons to Photograph the Columbia and Snake Rivers
1. Scenic views are around every bend along on both the Columbia and Snake Rivers.
2. Photograph locks and dams, including the historic Bonneville Dam.
3. Experiment with slow shutter speeds photographing water falls in the Columbia River Gorge.
4. Bring a longer telephoto for the chance of photographing big horn sheep along the Snake River.
5. Photograph historic sites in Astoria and viewpoints at the mouth of the Columbia River.
What to Pack for the Columbia and Snake Rivers
Camera with fast auto-focus capability, from DSLR, Mirrorless system, to compact Super Zoom
Selection of lenses or a compact camera that zooms from wide-angle (16-35) to medium-telephoto (up to 300mm)
Camera backpack with rain cover, and also a rain cover for your camera

Consider bringing your laptop for downloading and selecting images for the guest slideshow, or use our on-board computer workstation

Bring a light-weight tripod for shooting waterfalls with slow shutter speeds
Exclusively ours: Expedition Photography program
Every Columbia and Snake Rivers departure offers the services of a Lindblad-National Geographic certified photo instructor. This veteran naturalist is specially trained to assist you with camera settings, the basic elements of framing, composition and lighting; and will also provide tips to ensure you go home with fantastic photos. You'll be able to capture the moments at the heart of your expedition, and go home a better, more confident photographer—with some of the best shots of your life!
Find Photo Expeditions
Please select a destination, date or photographer from the drop-down menus above to search for Photo Expeditions.
Pacific Northwest Itineraries
Columbia & Snake Rivers 2017 Brochure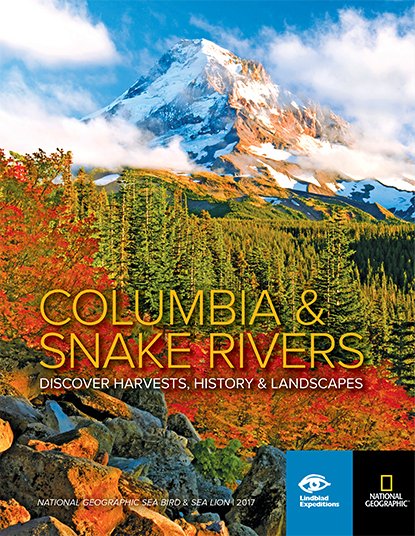 View online or have one mailed to you. It's free!
Brochures & DVDs
Pacific Northwest Weather
JAN-MAY
JUN-DEC
LOW TEMP
31-41°F
33-47°F
HIGH TEMP
44-66°F
45-77°F
WATER TEMP
45-54°F
50-58°F