Pacific Northwest
Regional Cuisine
A taste of Oregon and Washington: Local & sustainable all the way
You're invited on a journey to explore the region's unique flavors. The movement towards organic food and the broader notion of sustainable farming practices has taken firm hold in the Pacific Northwest. And, throughout the week at stops along our itinerary route, you'll have opportunities to taste the region's very soil, air, and water in the form of delectable fruit, vegetables, meat, and cheese, plus wines and craft beer. Our chef provisions the ship with the bounty of the Columbia and Snake Rivers—food harvested along the river we explore daily. So breakfast, lunch, and dinner aboard features fresh, local fare from farmers committed to sustainable practices.
Discover the region's excellent wine and beer
Chances are you're already familiar with the Willamette Valley's award-winning wines and some of the excellent craft beer produced in the region. You'll enjoy fine wines and beers with our compliments during the evening Recap and dinner—as a way to experience the full richness and diversity of the Columbia and Snake Rivers. Our wine list represents the various growing areas and grape varieties. Among our beer selections, you'll discover two of the region's best craft brewers: Full Sail Brewing and Deschutes Brewery, both committed to socially responsible practices.
Our food suppliers along the rivers
We strive to work with farmers and food providers who support the local economy and environment. Learn more about the locals who grow and produce our food and even shop some of their wares online.
To see our providers, simply click on a category:
Seafood Providers
Pacific Seafood

A vertically integrated, family-owned company that opened their first processing plant in 1983 to better serve customers by going directly to the source.

Josephson's Smokehouse

An 80-year-old, family-run smokehouse in Astoria, Oregon with four generations of fishermen, fish buyers and processors.

Clear Springs Foods

A 'Best Choice' on many seafood watch lists and on the Monterey Bay Aquariums "Super Green List" for proactive, sustainable fish farming techniques.
Dairy Providers
Cheese, Sour Cream, Ice Cream, Yogurt
Produce Providers
Cal Farms

Local purveyor of radishes, onions, cilantro, beets, leeks and more. Available in organically or conventionally grown.

Delta Farms

Dickey Farms

Spinach, tomato, corn, eggplant and squash are among wide range of produce grown here.

Dragonberry Produce

Represents some of the finest produce growers in the Pacific Northwest, and specializes in unique fruits and vegetables.

Draper Girls Country Farm

Family farm specializing in fresh produce: apples, blueberries, pears, peaches and more.

Duck Delivery Produce, Inc.

Distributor of fresh, high quality fruits, vegetables and custom-cut produce for over 30 years.

Fawel Farms

A 3rd generation family farm offering apples, watermelon and vegetables.

HerbCo

The first company in the Pacific Northwest to provide local, year-round certified organic fresh herbs.

Imperial Gardens

Inaba Produce Farm

Third generation family of farmers that grow a diverse variety of vegetables on 1,200 acres, and leaders in developing new ways to improve farms' diversity and boost production without relying on chemicals.

Malatesta Farms

Ostrom

Grown in the Pacific Northwest since 1928, a family owned and operated mushroom farm.

Pride Packing Co.

A large stone fruit and apple grower and shipper.

Rasmussen Farms

A family farm supplying fresh vegetables and strawberries locally since 1945.

Siri and Sons Farms

Willamette Valley-grown broccoli, cucumbers, parsley, peppers, radishes, beets and more.

Sterino Farms

Theony Farms

Tri Cities Produce

Wallace Farms

Potatoes grown in the Skagit Valley's ideal conditions and sold throughout the Pacific Northwest.

Walter Wells Farm

An active participant in creating innovative environmentally conscious tools to replace conventional chemicals.
Pacific Northwest Itineraries
Columbia & Snake Rivers 2017 Brochure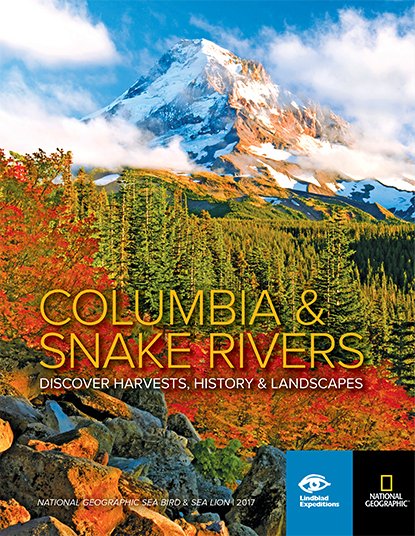 View online or have one mailed to you. It's free!
Brochures & DVDs
Food & Wine
See what well-known publications say about exploring with us
Read the article
Pacific Northwest Weather
JAN-MAY
JUN-DEC
LOW TEMP
31-41°F
33-47°F
HIGH TEMP
44-66°F
45-77°F
WATER TEMP
45-54°F
50-58°F