Antarctica
Antarctica Expedition Team
Share the adventure with knowledgeable, engaging companions
Lars-Eric Lindblad pioneered expedition travel to Antarctica when he took the first "citizen explorers" there in 1966. In the 50+ years of our expedition history in Antarctica, the quality of our veteran staff is the reason the Lindblad name is known and respected for top-quality expeditions. And now that we are aligned with National Geographic, there is no better ice team anywhere.
The team composition
Every expedition sails with a veteran expedition leader and a team of eight naturalists, many of them polar veterans, of a variety of specialties: zoology, biology, ornithology, geology, polar history, and more. Other members of the 15-person team include an undersea specialist, a National Geographic photographer, plus a Lindblad-National Geographic certified photo instructor, a video chronicler and a wellness specialist. Together, they provide you with a greater understanding and appreciation for this exceptional place.
More specialties and personalities

Our better than one-to-fifteen staff-to-guest ratio ensures you the benefits of diverse backgrounds, and the freedom to head out on activities with the naturalist whose interests mirror your own. You are never assigned to a specific group, and our team can custom-tailor activities to match your activity level—to make each day of your expedition uniquely yours, and deeply rewarding.
Featured Antarctica Team Members
Overheard
What a fantastic journey! We appreciated the wonderful staff and crew and enjoyed this opportunity to explore such an unusual place.
Antarctica 2017-19 Brochure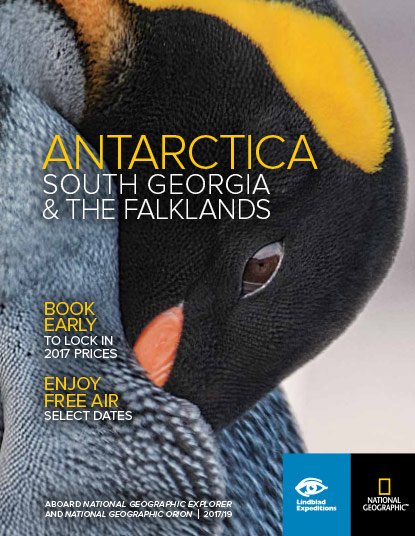 View online or have one mailed to you. It's free!
Brochures & DVDs
Virtuoso Life
See what well-known publications say about exploring with us
Read the article
Antarctica Weather
NOV-FEB
LOW TEMP
20°F
HIGH TEMP
50°F
WATER TEMP
N/A