Amazon
What It's Like/What You'll Do
You'll spend your time actively exploring
Peru's Pacaya-Samiria Reserve is the largest protected seasonal flood forest in South America. The legendary river provides sustenance and utility for the communities who live along the banks, and fosters a staggering level of biodiversity. The exquisite 28-guest Delfin II is perfect for our daily explorations, designed for the river environment and to keep you connected to it. The open airy decks, and the spacious, well-appointed suites with huge windows give you an unending view of life along the Amazon. The chef artfully prepares remarkable dishes using local sustainable ingredients.
Choice of daily activities
Walk, kayak, and swim. Every day, we board 10-person, naturalist-guided skiffs for a variety of outings. On days with low water levels, we'll hike on terra firma to learn about the lavish vegetation of the rain forest. When water levels are too high for walking, the skiffs provide nimble access, allowing us to thread through narrow, inviting tributaries. We also venture to a place where Victoria water lilies can extend over six feet in diameter. Powerful nighttime scopes allow for exciting, evening skiff explorations in search of nocturnal creatures. Skiffs also provide an excellent platform for photography. Our ship is the only one in the region equipped with a fleet of kayaks, providing the rare privilege of intimate up-close experiences in this magical environment. If you happen upon a spectacular jabiru stork, the tallest flying bird in South America, you can stop and observe quietly for as long as you like. Or you may opt to stay on board Delfin II to enjoy a rejuvenating massage. Each day the choice of what to do is yours.
Explore the river's terrain and wildlife

Our Amazon wildlife travel focuses on the remarkable Pacaya-Samiria Reserve, backed by two fierce rivers―the Marañón and Ucayali. This is a less-traveled, wilder part of the Amazon, with the highest concentration of bird species on the planet—and you'll see many fascinating examples. You'll take a refreshing swim in a lagoon within the Reserve, and perhaps see the Amazon's famous pink river dolphins tranquilly swimming nearby. And learn fascinating things about the rain forest, including how tannins are washed out by the steady tropical rain, giving the water its mysterious "black" appearance and its romantic nickname: the river of mirrors.
Meet natives of the Reserve
One of the most rewarding and memorable aspects of this Amazon adventure travel is meeting the people who live along the riverbanks, known as ribereños. They seldom have outsiders visiting their village, and are always welcoming, showing us a heartwarming and genuine friendliness. The women of the communities create beautiful, one-of-a-kind artisan crafts―from intricate baskets and charming animal replicas, to belts and jewelry. Most of the décor on Delfin II is the handiwork of these women. The local children will beguile you with songs and smiles.
Enjoy the daily ritual
A tradition on all Lindblad-National Geographic expeditions is the gathering of staff and guests each evening to exchange stories about the day's events—a get-together known as "Recap" and it's often one of the most engaging parts of your journey. On the breezy top deck of Delfin II, while you enjoy a cocktail and some hors d'oeuvres our naturalists talk about the highlights and sightings of the day. It's a relaxed time with opportunities for questions and anecdotes. Your expedition leader will outline the next day's activities before everyone heads to dinner.
Savor time aboard ship
Delfin II is designed expressly for the river environment. Her relaxing plush-cushioned rattan sofas and tropical hammocks invite you to simply be––watch the river passing, curl up with a book, or nap when the spirit moves you. Your choice of activities means you're free to do some, all or nothing at all.
Amazon Itineraries
Upper Amazon Aboard the Delfin II
10 days
Expeditions in:
Feb, Mar, Apr, May, Jun, Jul, Aug, Sep, Oct, Nov, Dec
Amazon & Peru 2017-2018 Brochure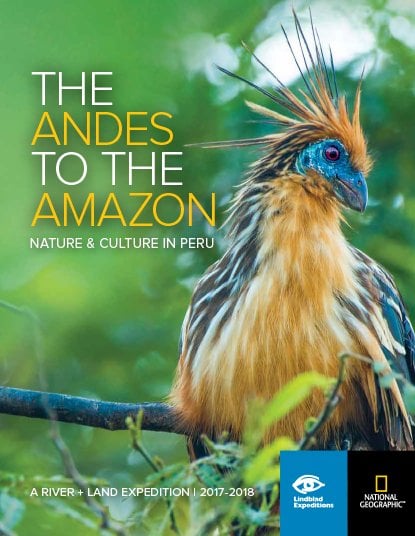 View online or have one mailed to you. It's free!
Brochures & DVDs
Miami Herald In the News
See what well-known publications say about exploring with us
Read the article
Amazon Weather
JAN-MAY
JUN-DEC
LOW TEMP
70-75°F
70-75°F
HIGH TEMP
85-90°F
85-90°F
WATER TEMP
58-77°F
58-77°F