Galápagos: Celebrating 50 Years
Epic Galápagos Photo Expedition
17 Days
NG Endeavour II
96 Guests
Expeditions in: Nov / Dec
From $12,530 to $23,360
Itinerary Overview
Endless photo ops on a one- or two-week expedition
Join a team of top National Geographic photographers in one of the planet's most photogenic places. Explore every major island in the archipelago on an epic two-week expedition, or if you don't have the luxury of time, join the expedition for one week aboard the new National Geographic Endeavour II. Whichever option you choose, you'll learn new shooting skills in the field and editing and gear tips during on board sessions.
Explore the Galápagos archipelago and undersea in great depth with hikes and Zodiac cruises paced for photo ops and timed to take advantage of the best light
Book the two-week expedition to explore every major island in Galápagos—and save 10%
Get personal attention—every Zodiac outing and hike includes the expertise of both a naturalist plus either a National Geographic photographer or Lindblad-National Geographic certified photo instructor
Shoot with and learn from a team of top photographers and try-out new photo equipment from our B&H gear gurus
Go on daily photo assignments to help build your personal portfolio
Use a special, mid-voyage photo edited seminar with expert image critiques to boost your skills
Travel with and learn from top National Geographic photographers
You'll explore with National Geographic photographers, Lindblad-National Geographic certified photo instructors, our director of expedition photography, and two gear and editing specialists from B&H Photo/Video.
The 2017 photo team is Ralph Lee Hopkins, the Lindblad-National Geographic Director of Expedition Photography; National Geographic Photographer Michael Melford, who has worked for the Society for over 25 years and produced 17 feature stories for the magazine; National Geographic Photographer Brian Skerry, an acclaimed undersea photojournalist with over 10 stories in National Geographic magazine; National Geographic Photographer Krista Rossow, who has served as the photo editor for National Geographic Traveler magazine for over seven years; Jennifer Davidson, a Lindblad-National Geographic certified photo instructor who has taught photo workshops across the U.S. and aboard for more than 10 years; Jonathan Kingston, a photo instructor represented by National Geographic Creative; Jeff Litton is an environmental filmmaker and adventure cinematographer who has filmed hammerhead sharks in Galapagos; plus production and gear experts from renowned retailer B&H Photo Video, David Brommer and Gabriel Biderman, who will coming equipped to share their knowledge, plus the latest high-end gear.
Your team will offer shooting tips in the field, coaching aboard ship, plus special photo assignments guaranteed to add skills and photos to your portfolio. Flanking them will be our top expedition team: an expedition leader, naturalists, an undersea specialist, plus a wellness specialist.
The world's most photogenic wildlife
The wildlife of Galápagos is legendary for its uniqueness and lack of an instinct to flee human presence, allowing you the rare experience of being able to get very close—making for magical photo ops. See blue-footed boobies. Flightless cormorants. Darwin's finches. Galápagos penguins. Sea lions on beaches or gamboling underwater. Giant tortoises grazing in the highlands. Each island contains endemic species, and you'll have the chance to explore all the major islands on this expedition.
Explore & shoot the undersea
The islands are half the story—dive in and document the galaxy of wildlife and colors of the Galápagos Marine Reserve. You'll do so with the company and expertise of legendary undersea National Geographic Photographer Brian Skerry whose famous images tell stories that celebrate the mystery and beauty of the sea. Snorkel nearly every day, and sometimes twice per day.
Options abound for non-photographers, too
Every Lindblad-National Geographic Galápagos expedition sails with a full complement of naturalists and all our cool tools for exploring—and this one is no different. Accompanying a partner indulgent in photography but you don't share their interest? Good news: each day you'll have the option take long hikes, explore an intertidal zone with a naturalist, kayak with new friends, stand-up paddle board, or Zodiac cruise. You're invited to join a different naturalist on each outing: there are no assigned groups and every adventure includes the expertise of top naturalists. See more of what you'll do.
Important Flight Information
Please talk to an Expedition Specialist before booking your airfare.
Special Offers
early bookings savings
2017 prices are guaranteed for all 2018 departures if booked by June 1, 2017. After June 1, 2017, call or visit expeditions.com for new 2018 prices.
Ready To Book?
US: 1.800.397.3348
Int'l: 1.212.261.9000
Weekdays 9a - 10p (ET)
Weekends 10a - 5p (ET)
Or call your travel agent
Our online reservation system is always available.
Galapagos 2017-18 Brochure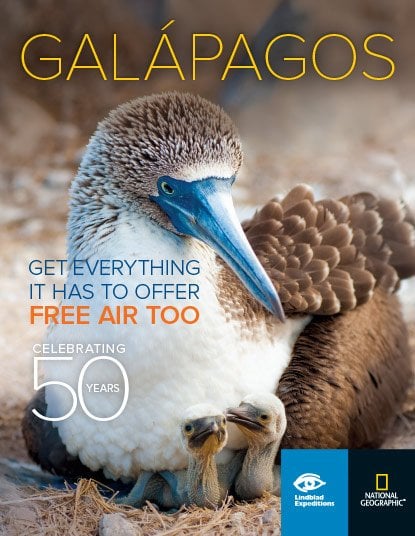 View online or have one mailed to you. It's free!
Brochures & DVDs