Galápagos: Celebrating 50 Years
Galápagos Aboard National Geographic Endeavour II + Peru's Land of the Inca
16 Days
NG Endeavour II
96 Guests
Expeditions in: Year Round
From $12,650 to $20,950
Itinerary Overview
The wildness of Galápagos, plus iconic Machu Picchu & cultural highlights of Peru
Embark on a sweeping adventure that encapsulates all the wildness of Galápagos balanced with cultural and historic experiences of Machu Picchu & the Land of the Inca. You'll explore Galápagos in depth aboard the 96-guest National Geographic Endeavour II, our newest, fully equipped expedition ship with tools for exploration. And you'll journey to contemporary Lima, and historic Cusco, a UNESCO World Heritage site. Plus, overnight at Machu Picchu and watch the sunrise over this fabled city.
Have up close encounters with incredible wildlife
Experience the Galápagos undersea, too
Benefit from our 40+ years of experience and relationships in Galápagos to see all you came for and more.
See daybreak over the ruins at Machu Picchu from the fabled Sun Gate, with only a handful of visitors
Discover Cusco's array of cultural influences and explore the Sacred Valley of the Inca
Explore the massive stone Inca stone fortress of Ollantaytambo
Encounter abundant wildlife in Galápagos
Blue-footed boobies. Flightless cormorants. Darwin's finches. Pink flamingos. Sea lions on beaches or gamboling underwater. Giant tortoises grazing in the highlands. The wildlife of Galápagos is legendary for its uniqueness and lack of fear, allowing you the rare experience of being treated as an equal in the wild world. Each island contains endemic species, and you'll have the opportunity to see a panoply of Galápagos' creatures in their native habitats—on land and in the sea.
See day break of Machu Picchu, plus experience Cusco and the Sacred Valley of the Inca
Walk amongst 3000-year-old cities built by the Incan empire and explore the most stunning archaeological sites in the Peru. This week-long exploration is carefully planned to allow you to acclimate on the trip from sea level to the peaks of Machu Picchu. Your expedition team of local experts and historians will also open you to the colonial and contemporary Peru that lies alongside the Incan wonders. You'll visit the massive Inca stone fortress of Ollantaytambo before relaxing in the luxurious 31-room Orient Express Sanctuary Lodge. Before sunrise, you'll hike to the Sun Gate, the ancient final checkpoint to Machu Picchu. See dawn break over the quiet ruins and then descend into this fabled city with only a handful of visitors.
Explore with an exceptional team
Explore Galápagos under the sure guidance of an expedition leader, four handpicked naturalists, including a Lindblad-National Geographic certified photo instructor and an undersea specialist, plus a wellness specialist. In Peru you'll explore with a veteran Peruvian tour plus several veteran local guides that join us along the way in the Sacred Valley of the Inca, Machu Picchu, and Cusco. Your team's knowledge and passion for the region is the key to your once-in-a-lifetime experience. Meet the team.
Important Flight Information
Please talk to an Expedition Specialist before booking your airfare.
Special Offers
celebrate our 50th year with free round-trip air
Free round-trip air from Miami on all departures Aug. 25-Nov. 17, 2017 on National Geographic Endeavour II and Sep. 16-Dec. 16, 2017 on National Geographic Islander, plus select departures on both ships throughout 2017. Upgrade to Business Class for $500 on select departures, limited availability. Call for details.
---
early bookings savings
2017 prices are guaranteed for all 2018 departures if booked by June 1, 2017. After June 1, 2017, call or visit expeditions.com for new 2018 prices.
Ready To Book?
US: 1.800.397.3348
Int'l: 1.212.261.9000
Weekdays 9a - 10p (ET)
Weekends 10a - 5p (ET)
Or call your travel agent
Our online reservation system is always available.
Galapagos 2017-18 Brochure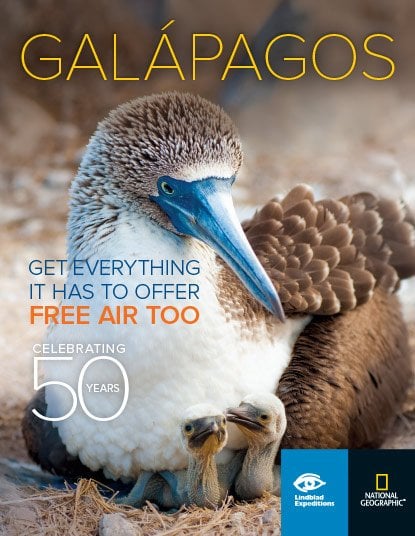 View online or have one mailed to you. It's free!
Brochures & DVDs