Galápagos: Celebrating 50 Years
The Expedition Experience
You'll be among animals unafraid of you. Snorkel, hike, paddleboard, cruise by Zodiac. Join us this 50th anniversary year to get everything Galápagos has to offer, aboard the brand-new National Geographic Endeavour II or the yacht-scaled National Geographic Islander. Since the first international tourist expedition to Galápagos in July 1967 with Lars-Eric Lindblad, we've introduced generations of guests to these strange and wonderful islands, the world's first UNESCO World Heritage Site. Sailing twice weekly, all year round. Explore the undersea on our Galápagos cruise tours. In the nearly 50 years we've been exploring here, we've introduced generations of guests to the magic and mystery of Galápagos— the best islands in the world.
Galápagos Itineraries
Special Offers
Bring A Special
Place Closer
CELEBRATE OUR 50TH YEAR
WITH FREE ROUND-TRIP AIR
from Miami on all departures Aug. 25-Nov. 17, 2017 on National Geographic Endeavour II and Sep. 16-Dec. 16, 2017 on National Geographic Islander, plus select departures on both ships throughout 2017. Upgrade to Business Class for $500 on select departures, limited availability. Call for details.
BRINGING THE KIDS
We believe sharing an expedition with your kids or grandkids is a life-enhancing experience. So take $500 off for each child under the age of 18.
Galapagos 2017-18 Brochure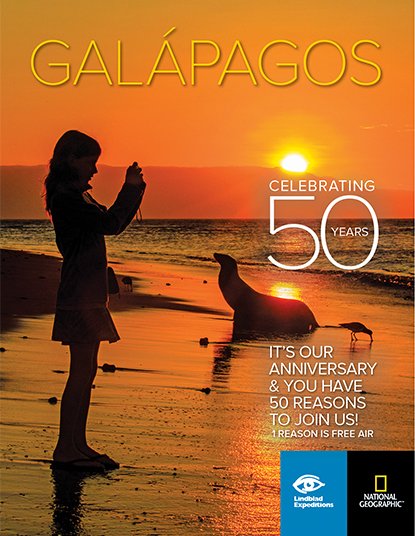 View online or have one mailed to you. It's free!
Brochures & DVDs