Galápagos: Celebrating 50 Years
Galápagos & Families
Something for everyone from 8 to 80 in this ageless place
Travel + Leisure has named us the #1 Family Friendly Small-ship Cruise Line for four consecutive years. Our Galápagos family expeditions offer families more than simply the chance to learn; parents and children get the rare opportunity to genuinely "be" together in a totally natural way—sharing shipboard life, sharing activities, sharing the discoveries and creating a genuinely collective family memory.

Special kids-only programs with dedicated staff
During summer vacation—when kids travel most—an additional naturalist joins our team in Galápagos enabling smaller groups, more personal attention, and kids-only activities. Young explorers look forward to photo workshops with a Lindblad-National Geographic certified photo instructor using smartphones or point-and-shoots. Hands-on science using the video microscope and learning about conservation projects, plus hands-on nature lessons with our naturalists who are trained to work with kids and are excellent role models. Journals and journaling time. Scavenger hunts. And "certificates of achievement" for various accomplishments. Our kids' program is learning disguised as fun. You'll see kids discover hidden talents and gain confidence while having the time of their lives. Kid-friendly menus and movie night with pizza are always a hit, too.
Daily activities to share

Snorkeling and swimming with playful sea lions, hiking among colonies of birds, and sitting together as the community collectively recounts the day at Recap. These are the things you'll remember together. Aboard ship, kids can never get too far away, but they're also able to exercise their own independence. Often "kids' tables" spontaneously form, giving kids the chance to create their own friendships. In other cases, families allow kids to freely join different activities groups by day, then enjoy dinner together every night.
Galápagos Itineraries
Special Offers
Bring A Special
Place Closer
NAT. GEO. ENDEAVOUR II
INAUGURAL SEASON
FREE AIRFARE
From Miami to Galápagos all departures Jan. 6-Mar. 31, and Aug. 25 – Nov. 17, 2017 with select additional dates on both ships.*
*New bookings only. Subject to availability.
Galapagos 2017 Brochure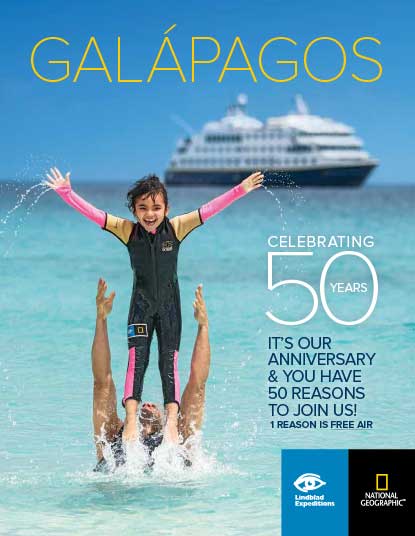 View online or have one mailed to you. It's free!
Brochures & DVDs
BBC In The News
Galápagos Weather
| | JAN-MAY | JUN-DEC |
| --- | --- | --- |
| LOW TEMP | 65-70°F | 65-70°F |
| HIGH TEMP | 85-90°F | 75-90°F |
| WATER TEMP | 75-82°F | 62-68°F |