Galápagos: Celebrating 50 Years
Introducing National Geographic Global Explorers
Our exclusive family program launches in Galápagos
Calling all National Geographic Global Explorers!
Developed in conjunction with National Geographic Education, our unique exploration-based program launches this June in Galápagos. Kids and teens will choose among a host of cool activities—from recording wildlife sightings in their Field Notebook to collecting and observing plankton fresh from the ocean—all designed to help them develop what National Geographic Education defines as the attitudes, skills, and knowledge of an explorer. They can collect 'points' on their way to become a National Geographic Global Explorer—with the certification to prove it! Guests under 18 (and their families) will:
Benefit from National Geographic certified field educators: Our naturalists, newly minted as National Geographic field educators, optimize daily learning opportunities and fun­ for families.
Connect with nature: They'll disconnect from tech and have direct contact with wildlife and wonders above and below the sea. With no screens to intervene you'll re-discover each other on the voyage, too.
Learn to be a storyteller: Through photos, videos, music, poetry, drawing and more, kids and teens will be encouraged to think outside the box and use their creativity to tell stories about the unique things they'll do and see along the way.
Develop their observation skills: Daily "In the Field: Spot It!" activities will prompt kids to watch out for a particular item, like a creature with scales or a giant coral head on land, then record their observations in their Field Notebook.
Have fun! They'll have the opportunity to earn a Zodiac "driver's license," snorkel with sea lions, paddleboard or kayak with newfound friends, and develop lifelong memories.
Fun and flexibility for all ages
The National Geographic Global Explorers' bulletin board is headquarters for daily activities and challenges, and kids can choose what they'd like to participate in each day. When kids travel most (summer vacation, holidays, spring break), an additional naturalist joins our team in Galápagos enabling smaller groups and more personal attention. And schedules and activities both onboard and off ship are designed with families in mind: enjoy kid-friendly menus, movie night with pizza, a choice of hikes, and more.
Galápagos Itineraries
Special Offers
Bring A Special
Place Closer
CELEBRATE OUR 50TH YEAR
WITH FREE ROUND-TRIP AIR
from Miami on all departures Aug. 25-Nov. 17, 2017 on National Geographic Endeavour II and Sep. 16-Dec. 16, 2017 on National Geographic Islander, plus select departures on both ships throughout 2017. Upgrade to Business Class for $500 on select departures, limited availability. Call for details.
BRINGING THE KIDS
We believe sharing an expedition with your kids or grandkids is a life-enhancing experience. So take $500 off for each child under the age of 18.
Galapagos 2017-18 Brochure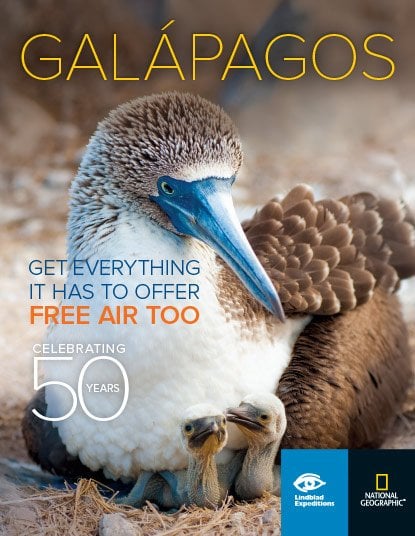 View online or have one mailed to you. It's free!
Brochures & DVDs